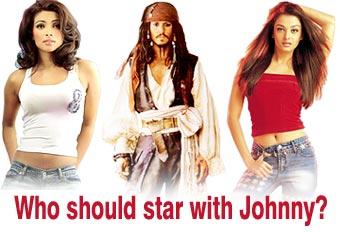 So, who should India's luckiest heroine be?
Even as our Bollywood starlets crow about cameos in Jackie Chan films and adaptations of Jane Austen, the real thing might be around the corner.
Reports -- completely unconfirmed, mind you -- suggest that Shantaram director Peter Weir might be scouring India on his hunt for a suitable heroine.
And do we need to remind you that the title role in the Gregory David Roberts' adaptation is essayed by Johnny Depp?
With critically acclaimed Depp also widely considered as one of the sexiest actors in the world, there will be a veritable crowd of starlets lining up for a shot with the actor.
Which Indian heroine do you think should star opposite Johnny Depp?