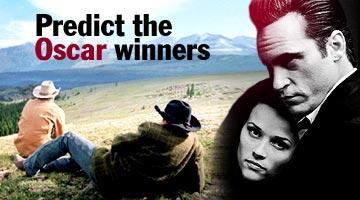 The Oscars [ Images ] are almost here.
On Sunday, March 5 (early Monday morning for Indian audiences), at the Shrine Auditorium in Los Angeles, the 78th Annual Academy Awards will be handed out.
And, since all the nominated films have been (or are about to be) released on Indian screens, you must be excited. Who do you think will win this year? Ang Lee's [ Images ] Brokeback Mountain or Steven Spielberg's [ Images ] Munich? And what about George Clooney's [ Images ] Good Night, And Good Luck?
Reese Witherspoon [ Images ] or Keira Knightley [ Images ]? Philip Seymour Hoffman or Terrence Howard?
Give us your take. Tell us who you think will win at the 2006 Academy Awards.
Netflix delivers DVD rentals -- from $ 9.99 a month. No Late Fees, Free Shipping. Two week FREE Trial.