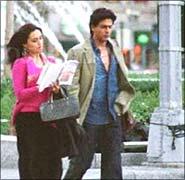 Karan Johar, with his penchant for big and bigger, has managed another cast evoking enthusiasm among filmgoers. Grandly set in the striking metropolis of New York City, Kabhi Alvida Ne Kehna promises to be worth the price of admission. upposedly inspired by Mike Nichols' Closer, it features Amitabh Bachchan, Shah Rukh Khan, Abhishek Bachchan, Rani Mukerji and Preity Zinta, and is set for an August 11 release.

Now for the music. It comes from the trio of Shankar-Ehsaan-Loy, who previously helmed the popular score for Johar's Kal Ho Naa Ho.
With everything about this film creating so much excitement and anticipation, you are almost nervous to push the play button. What if it turns out to be a huge disappointment?

Fortunately, this fear is short-lived. The music is delightful.

The tender play of flute and piano lends a gentle touch to tracks that are poignant in nature. The music directors go all out on the dance numbers with a spicy chorus and rhythmic percussions.

The album opens with the title track -- melodramatic, melancholic, opulent and everything else a Karan Johar film stands for, Kabhi Alvida Na Kehna is touching.
Uplifting and lively, the dazzling vibes of Mitwa belong to the genre of Euphoria's Mairi and Junoon's Sayonee. The synthesis of Fuzon vocalist Shafqat Amanat Ali, Shankar Mahadevan and Caralisa's voices with Javed Akhtar's compelling lyrics results in wonderful, rousing music. The remixed or revisited version (as the album states) by Sel and Indrajit Sharma with its escalated tempo and feverish temper is zippy. Very zippy.

Still more adrenalin is pumped via techno track Where's The Party Tonight. Its funky and infectious beats ensure this one's going to enjoy a lot of airplay at radio stations, nightclubs and iPods. Comparisons to It's the Time to Disco are inevitable, although the track is structured differently.

Sonu Nigam and Alka Yagnik's silvery rendition blends seamlessly with the dreamy poetry and comforting tunes of Tumhi dekho naa. The true beauty of this romantic duet lies in its unadorned appeal.

Jilted lovers voice their grievances through the medium of bhangra rock. Rock 'n' roll Soniye is fabulously spirited and flamboyantly composed, but catchy just the same. In Farewell Trance, DJ Shane combines the KANK theme with breezy electronic arrangement to create some soulful impact. Neat stuff.

Creative, emotional and vivacious -- the Kabhi Alvida Na Kehna album is a treat for the melody-starved.
Rediff Rating: