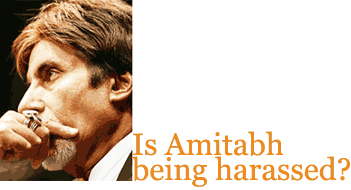 It started last year when Amitabh Bachchan was slapped with Rs 45 million (Rs 4.5 crore) income tax notice while he was still at the Lilavati Hospital in Mumbai recovering from a serious intestinal ailment. Apparently the Big B paid up the bill from his hospital bed. The income tax department later clarified that the notice had been sent to his home address long before they knew he was in hospital.
In February this year the IT folks were at it again. This time they were seeking details of the tax deducted at source for his company, Amitabh Bachchan Corporation Ltd.
Cut to June: A report that Amitabh Bachchan wore Ray-Ban sunglasses worth Rs 270,000 as the blind advocate in Zamaanat -- and then gifted them to director and buddy S Ramanathan -- set off the income tax department again. They wanted him to explain how he could have made such an expensive puchase.
According to news reports, the Bachchans are, as of today, snowed under with 37 income tax notices. They have been asked to declare the details of many of their high-end possessions -- Big B is famous for his love of watches, pens (not Parker; more like Mont Blanc) and his fleet of cars.
The Samajwadi Party, on behalf of the Bachchans, has made its disapproval of this harassment known to the Congress party and SP workers and fans, sporting dark glasses, have staged protests at income tax offices across Uttar Pradesh and Mumbai. According to the party's top brass, Bachchan is being harassed for his proximity to the SP's Mulayam Singh Yadav and Amar Singh -- closeness to them translating as distance from the Congress party, whose party MP Bachchan was once upon a time.
Do you feel that the income tax department is unduly harassing the Millenium's biggest star? Tell us!