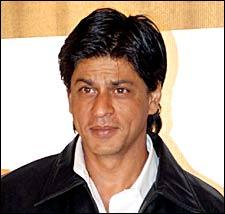 After making inroads in Britain and the US, Indian films are now becoming popular in France, Germany and Poland, Shah Rukh Khan claims.
The Bollywood hearthrob, who was in London for the music release of his new film Kabhi Alvida Naa Kehna, told newsmen that the film is scheduled to release on August 11. It will have French sub-titles.
Directed by Karan Johar, Kabhi Alvida Naa Kehna is a story of two relationships of marriage, disappointment and ultimately betrayal.
Why Preity Zinta loves New York
Khan says the theme of the film  -- extra-marital relations -- shows 'a sign of maturity of the director'. Till now Khan has only featured in more old-fashioned love stories like Dil To Paagal Hai, Kuch Kuch Hota Hai, Kabhi Khushi Kabhie Gham, Kal Ho Naa Ho and Veer-Zaara.
"It is a great story, with great music," he says.
Asked whether Bollywood directors produced films with NRIs in mind, Johar says, "We are an emotional lot of people and we produce films for Indians, whether in India or abroad."
Set in New York, the story revolves around the relationship between Dev (Khan) and Maya (Rani Mukherji). They are both married to different people. Dev is married to Priya (Preity Zinta) and Maya is married to Rishi (Abhishek Bachchan). However, when Dev and Maya meet, the shortfalls of their respective marriages become more apparent as they realise that they are perfect for each other. The film also stars Amitabh Bachchan.
'I've got Veer-Zaara and Bunty-Babli in my film'
Asked whether he planned to work in Hollywood films, Khan says, "I have not been offered any Hollywood roles. I feel proud of those Indian actors and actresses who have been offered Hollywood roles."
On the song and dance routine in the film, he says, "I love the fact that Karan and (choreographer) Farah Khan always stretch my dancing skills, and create scenes that are so vibrant and colourful in all the films we have done together.
Stalking Shah Rukh, Abhishek, Rani
"The mood of Kabhi Alvida Naa Kehna is very different -- it's very sensitive in some scenes and very exuberant in others. The soundtrack and the dances will take you on a parallel roller coaster to that of the film and the characters."
Johar says, "Many people view the music and dance in Bollywood films as purely incidental. I believe that the music is integral to a film, and for me, it is developed very closely within the structure of the film."