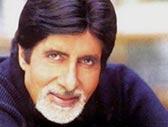 Amitabh Bachchan received support from an unusual quarter against the United Progressive Alliance government's decision to seek his income tax papers for the last 12 years. Bhartiya Janata Party's former president M Venkaiah Naidu wondered why the government was after one family.
"The government first got Jaya Bachchan disqualified as member of the Rajya Sabha. It has now sent notices to Amitabh Bachchan, who has celebrity status in our country," Venkaiah said in response to a question from newsmen on the notices. "This is unprecendented. Why are they after only one family? I cannot understand," he added.

When asked if he was defending the superstar, Venkaiah replied in the negative, adding that actors could be asked for explanations only if they didn't pay taxes.
Also Read:
Bachchan fans protest against IT notices