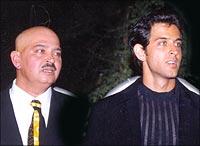 After Yaadein, Main Prem Ki Deewani Hoon and Mujhse Dosti Karogi flopped, everyone doubted Hrithik Roshan's potential to be a superstar. His last big hit was Kaho Na Pyaar Hai in 2000 – his debut with producer-director dad Rakesh Roshan at the helm.
So, when Koi Mil Gaya was to release in August 2003, it was make or break for Hrithik. Luckily, the film turned out to be a super hit. Hrithik proved he had a long innings to play. Now, three years later, the father-son duo are back with Krrish, the sequel to Koi Mil Gaya set to release on June 23.
Rakesh Roshan spoke to Chief Correspondent Syed Firdaus Ashraf about Krrish, Hrithik and a number of other issues. Excerpts:
Going by your track record, you have not been repetitive. Khoon Bhari Maang, Koyla, Karan Arjun, Kaho Na Pyaar Hai and Koi Mil Gaya have all had different storylines and subjects. So, why Krrish, considering it is almost repetitive as a sequel?
I wouldn't agree with the notion that Krrish is repetitive. The only thing common in the film is Rekha, who plays a grandmother. She played a mother in Koi Mil Gaya. It is an entirely different story. Hrithik is not playing the same character either.
Koi Mil Gaya was one of the last universal hits for the industry. Do you think Krrish can achieve the same kind of success?
Krrish is also a universal film like KMG. It will run in C, B and A class centres of our country. It is tough to satisfy everybody and every class, which is why I take so much time over the script.
How did this idea come about?
After I saw The Lord of the Rings trilogy, I thought of trying it with KMG. After all, Jaadoo had already given powers to Hrithik in that film.
Is it based on the concept of Superman?
It is neither about Superman, nor Spiderman. Krrish has his own identity. He is true to life. For me, he is not a superhero. He is a character who has powers and is still down to earth. You cannot compare him to Superman.
Does it worry you that the Hollywood film Superman Returns releases a week after Krrish?
Not at all. They are two different films.
Considering three years have passed since KMG, will people still be able to relate to Krrish?
Of course. People who have not seen KMG will be able to relate to it and understand the story too.
What kind of preparation did Hrithik go through for the film?
He gained 10 kilos, grew his hair, trained in China for 40 days and picked up things from action director Tony Ching.
How long do you normally take after shooting begins?
We created the whole story before going on sets. Everything was on paper and everybody knew what to do. When I am directing, I visualise even while sleeping.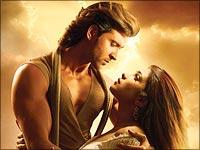 You have put lot of money into Krrish (approximately Rs 45 crore). Do you believe in taking big risks?
To take a big risk is better than making a common film. People don't want to see the same wedding scenes.
How happy are you with Hrithik's career, to date?
When someone new joins the industry, we all run like horses in a race. One cannot run in the Number One position all the time though. A good actor will always remain a good actor. If something goes wrong with the film, it will go wrong with good actors too -- they cannot be blamed for it. Actors can emote, they make you laugh, but if the script and director are not able to take the best of an actor, nothing can be done.
How have you been able to keep your feet on the ground and stay relevant for two decades?
I think it's because I don't have a set pattern about making films. I don't make family films or horror films. I make different kinds of films all the time. I keep younger staff with me, younger writers. I listen to my son and his opinions. I keep my ears open all the time. I have no ego problems. I am not surrounded by chamchas (flatterers). Even if an actor wants to change some dialogues, I give him the space to do so.
Controversies are part of cinema. You have been accused of lifting Krrish's script…
How can someone say the script has been lifted when the film hasn't been released yet?
How did the design for the mask come up?
We designed a lot of masks. It took us four months. Eventually, we used wax to create it because it blends with the face.
Will there be a third film, making a KMG trilogy?
Why not? Everything is possible.
You have, over eight years, worked with no actor other than Hrithik. Don't you feel the need for change?
No, because Hrithik has been giving a different look to each character. I worked with him for five years even before Kaho Naa Pyaar Hai, when he was an assistant director for my films. We are father and son, friends and colleagues.
The music of Krrish has been disappointing...
I think it will be a big hit. Music takes time to pick up. The songs are melodious. When the first track, Aao Sunao Pyaar Ki Ek Kahani, was released, a lot of people called to tell me it wasn't up to the mark. Today, it has caught on.
Are you scared, considering KMG was so huge?
I am not scared at all. Every film has its own destiny. I cannot say, at this moment, whether Krrish will be a bigger success than KMG.
You are usually aloof from the industry. There was no support for Aamir Khan's controversial statement on the Narmada issue, for instance…
I focus only on my films. I don't go to parties or chat shows; I think that is just a waste of time. As far as Aamir Khan is concerned, I think he has his own voice and has the right to say what he wants to.
When will you start a new project?
I don't start a film because I have to start one. I only do one when I feel urge to. I don't have to do a film simply because I have a big office and pay 50 staffers. I am not in a hurry. I want to make a film that will take the industry to the next level.
How do you think Krrish will be remembered in the history of Hindi cinema?
I think it will be remembered as the first film in our industry that proved we are no less than any Hollywood film.