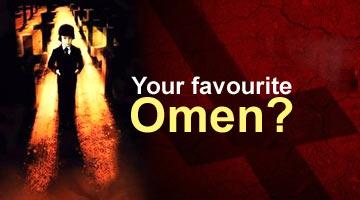 Why did parents stop naming their sons Damien? Well, it all began in 1976.
The Omen series combined Biblical prophecies about the anti-Christ with a terrific all-star cast to provide some of the best horror films ever.
In The Omen, Gregory Peck plays an American ambassador who learns that his son, Damien -- an unforgettably sinister Harvey Stephens -- is the anti-Christ. Superman director Richard Donner's 1976 film is regarded the best of the lot.
Two years later came Omen II, with Damien older and more lethal. William Holden plays uncle to the pre-teen (Jonathan Scott-Taylor), who discovers his true evil potential. Don Taylor (The Island Of Dr Moreau) finally directed this film despite several creative differences.
Omen III, prematurely titled The Final Conflict, featured Damien as an adult at the height of his powers. Sam Neill played the lead role in a film remembered most for its shock value. Graham Baker (Beowulf) helmed the 1981 film.
It's tough letting a franchise die, so 1991 saw Omen IV: The Awakening, a resurrection where a young girl -- Delia, played by Asia Vieira -- reprises the anti-Christ role hitherto represented by Damien. Jorge Montesi and Dominique Othenin-Girard collaborated to direct this forgettable TV film.
Now comes The Omen, John Moore's 2006 remake of the first film in the series, and while the Behind Enemy Lines director might try hard, it will be difficult to get past the probability that this remake is built purely around the gimmicky 6-6-6 release date. Also, multiplexes are slated to play the new film, releasing today, at 6.06 pm. Beware.
Now, you tell us. Which is your favourite Omen?