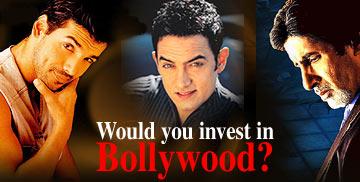 When an investor buys a stock, he tends to look at certain fixed parameters (at least he should!).
What business is the company into? How strong is the competition? Do earnings grow consistently? What is the potential for future growth? Can this company withstand competition and continue to grow? How is the stock currently valued?
We give you three Bollywood stars: Amitabh Bachchan, Aamir Khan and John Abraham. If they were stocks you could invest in, which one would you buy and why? Would you put more money in one 'stock' than in another? Share your thoughts.
Go on, tell us.