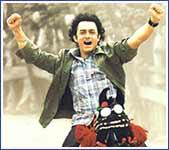 We asked readers to comment on Rang de Basanti: What they liked or disliked about it, what their favourite bits were, who their favourite characters were, what they thought could have been better.

They gave us all of that and more -- from issues related to the music, to Alice Patten's simplicity, to Indian cinema coming of age. Scroll down for some of the responses we received. And yes, considering some messages may have spoilers, we recommend this only to those who haven't seen the film yet...
Special: All about Rang De Basanti 
| | |
| --- | --- |
| | More on rediff.com! |
| | |
Nishu K: Did you like Rang De? – A very well directed movie brings the martyrs and the modern age heroes with the same grit and character. It is not a period film yet awakens the Bhagat Singh in today's youth.

What was the best thing in the movie? Direction, style, speed, music and performance of every character.

Who acted the best? I think it has to be Aamir, Sharman and Alice Patten. Aamir for his originality, Sharman for his timing - sense of humour and Alice Patten for her simplicity. All the others are equally good. Every performance stands out…be it Siddharth, Kunal, Atul, Soha & Madhavan

What was your favourite scene? – The last scene when Aamir is dying and he has a laugh with Siddharth in the radio room.

How about the least favourite? – The way the characters are killed is a bit too melodramatic. They were students not terrorists…the treatment should have been better for that part. Also the dialogues at time are not very impressive.

Best song?  All of them!!! A R Rehman rocks…and so does lyrics of Prasoon Joshi

Anything that made the film really work for you? The style…the atmosphere it creates…it shows every individual that Bhagat Singh was no SUPERHUMAN…but his thoughts were!!! Even we should awaken our sleeping soul & act responsibly!

Or anything that totally killed it? – the melodramatic end…but otherwise the movie is flawless!
  
Venkat Reddy: Well, This is the movie everyone is waiting to see.. the screenplay was just excellent. The performances by each and everyone stands out.. But, one who took all by surprise was siddharth.. though it IS an aamir khan film.. We may see a lot of him in years to come. For me, the best scene would be that from Aamir khan while he cries as he could do nothing abt the death of Ajay. Rahman did a good job after Mangal pandey. Paathshala was rocking. Thanks to Rakeysh Mehra for a splendind Movie!!!
Deepti Sehrawat: i think Rang De Basanti is a great movie. amir khan was simply fabulous. The best song would be 'rubaroo'. a very lively movie, and i think everybody must watch it.

Sandeep Ashar: Indian Cinemas is really getting mature year by year. And Rang De Basanti is a perfect example to of it. Amazing movie, Fantastic!
The best thing I liked about this movie is the script. There was a difference shown in yesterday's freedom fighters and today's freedom fighters, like how today the things are getting ignored and nobody cares to put a step forward and change the things in the country, instead of just telling that "is desh ka kucch nahi hoga"  (There is no future to this country). This transition between the past and the present is what I liked about the movie. All actors acted very well. Aamir Khan was of course was amazing but then too he didn't show that he was the only one who is taking the movie ahead. All were given an equal amount of importance; I think that's the thing what makes the actor perfect.
A R Rahman gave a brilliant music to this film. It was totally a new Genre for all of us. The lyrics were also truly patriotic. Post-Production and editing was very well done.
The Best song in this movie which I liked was 'Roo-ba-roo' sung by A.R. Rahman.
The Movie was quite an awakening for the people, though u enjoy every moment of your life, It is you who is a responsible citizen of this country.
Superb Movie! Go Watch it..
Sushant Sharma: To wake up a nation like us or should I say to wake up people like us we need a 'DANDA'. It can be some resisting force or some personal loss ( as in the movie ) and only then we can stretch our limits to 'Awaken A New Generation'.
I watched the movie first day first show as I am suffering from movie mania. 
I believe that its not a single persons movie or single actors movie, its a representation of today's youth varying from different casts, different religion and different  regions. I lived that life sometime back in my past and I could related to some characters in myself.
It also says that the enemies are no longer 'ANGREZ' but we are our own enemies which is extrapolated in the form of politicians etc.
Its difficult to believe that WE ARE THE CAUSE and its also difficult to understand the end of the movie but reality surely bites.
Clearly, its a message and not a movie. Its makes an appeals to 'US THE YOUTH OF INDIA' to understand today's requirement for the betterment of our nation and act upon it.
Harish Kashyap: The film has been very well directed. The intentions of the movie are good. But, Aamir has been grossly under-utilized, being relegated to a comic role. But, he has done a marvellous job of what is given to him. There is one particular scene where Aamir confronts Atul Kulkarni when the latter tries to attack Kunal Kapoor. The look in Aamir's face is stupendous.

Apart from Aamir, Sharman Joshi and Siddharth have done very good jobs. But, sometimes one tends to feel that Mr.Mehra could have swapped the roles of Siddharth and Kunal Kapoor. However, the movie is good and deserves to be a hit.

Smita Nair: Umm, it was some kinda film.

A good one. We, this generation at the moment is really looking bliss and missing the josh in them. now, have we found a mission ?

Somewhere walking out of the theatre, one felt ridiculed at ourselves. We have really done nothing for our nation ! kinda feeling.

Aamir as usual was exceptional, definetly the pull on the movie.

well done.....now this movie has got all of us thinking.  

Dhruv Shah: An awesome flick....truly mind blowing...Aamir did it again..
well no doubt about Amir's performance in movie but all others like sharman, sidharth, kunal, soha were great too...But out of all this Alice stood on her own...she played exceptionally well..
All sharman's comic lines were great..
The dialogue "hamhe kuch karna hoga" by amir and "Mar dalo" by soha and than followed by sidharth really turned us on.
This shows why Amir is best in industry. its not usual "rona dhona shahrukh" stuff...this is truly class apart...
Also one distint feature of this film was music...when pace of movie demanded rehman gave it..those background beats was superb..its almost 24 hrs i watched this movie..but it still runs into my body...woww WHAT A MOVIE!!!
I think this movie deserves to go to Oscars..

What i didnt like was the end..You cannot kill bunch of guys in front of Media..that too like of our...which is so critic about government...this was anti-democratic stuff..i think this kinda stuff is not feasible in india...but main thing was what this movie want to convey...it did..and thats bottom line...

If i would have to give rating to this movie..it would be 9.5/10

Sanjay Prabhakar: I watched Rang De Basanti this weekend and its really good.
We went to the hall and I knew I'm going to have a joy ride as I had an immense trust on Aamir Khan (anyway, dint bother to watch Mangal Pandey for other reasons). This will be one of the best movies I have watched, when I listened to the songs of the movie and some speculations about the movie I thought it could be another war movie with some Pakistan bashing dialogues, but, it was not.
This movie is about contemporary India, it is about the past, present, corruption, bribe, beer, MIG, youth, rebels. In other words it's about I-N-D-I-A.
Let me not tell you the nitty-gritty of the story and stuff, but I would like to tell the message, its very straight. In the past, a band of youth dared to attack the British Empire and died to start a revolution and they are still alive in our memory. The movie tries to retrace the same steps to chase away another deadlier enemy of the nation, Corruption.
Hey guys this movie has all those stuff we used to do in college.
I suggest you all to go and watch this movie, who knows you may find a Bhagat Singh or Chandrashekar Azad or Villiath Khan or Ram Bismill in yourself.
No, I haven't changed my profession, I'm not going to become movie critic nor the movie is paying me to do some marketing.
Bharti Devashish: RDB was an overall good movie.
Well first of all I would like to depict the good points of the movie.
A R Rehman is at his usual best; while the songs have been placed and paced quite well to gel with the movie. Initially when I heard the song "Lukka Chuppi"  on CD, I thought Aamir's mother is singing the song for him as he is away! But the movie clearly explained the reason for the song!! Apart from Aamir, Kunal has really come of age to play a beautiful role in the movie along with others.
Acting on the whole is pretty good while mapping the characters to Bhagat Singh & Co has been done quite well.
The pace of the movie seems good; sometimes when you start feeling that movie is starting to stretch, there comes something which makes you push back again onto your seat. So, on the whole a total "paisa-vasool" movie.
On the flip side, many people feel that the ending could have been much better off. But I ask them how? I think the film ended pretty realistically!! But this change from a complete commercial movie (first half) to a somewhat art one (tragic and heroic second half ending) was superbly covered under the wrappers. We never knew when the fun and excitement was over and drama took over.
Besides, people think Aamir has done great, but somehow I feel, he has done well. No doubt about that but the Punjabi role and that accent did not quite suit him. He has been successful at that to some extent but for me there was room for further improvement. For me the man to watch in this movie is Kunal; who has delivered exceptionally in this flick.
On the whole, the movie was totally loved by me and my friends when we went to watch it. So a suggestion from my side: Do go and watch the movie. Enjoy the movie by looking into what the actors are trying to prove; not what you wanted.
Dhananjay: Over the weekend caught up Rang De Basanti and was amazed at what I saw. The movie just goes to prove that even in the age of blantant commercialization which we see in movies and all other media types, once in a while there comes a person to tell a story which is relevant in todays time and can inspire people towards a better tomorrow. As I was leaving the theatre there was a standing ovation given to the movie, which tells us that people do identify with the movie and the ideas presented in it.
Movies like Rang De Basanti will only achieve their objective when we as a nation take the thought process triggered in Rang De Basanti to action by our deeds and not just by clapping when we leave the cinema hall. For most of us we forget the feelings that the movie stirred in us by the time we reach home. As DJ says in the movie: there are two ways to lead life, let what is happening happen or try to change it. Unless majority of the people atleast the youth aquire the second attitude the relevance of the movie is lost. The first step towards that would be youth participating the election process. First by voting and second and more importantly by contesting elections. Thats the need of the hour.
RK Gupta: In short it was a fabulous movie. After a long time, such a good movie on current issues.
At last such a movie on such a subject. After all, issues such as unemployment, poverty, heavy taxation, corruption are as much pinching, biting as it must have been during the earlier days - maybe. Still we feel we are being ruled by somone who is not one like us and cannot understand our pains.
Question is, who will bell the cat is ever - who will expose the corrupt.
Mindboggling - it was a good movie. I never give reviews - but this movie was too good and special.
Manan Chauhan: I saw this one today in Chicago. It is awesome technically, i mean the direction and overall acting, humour, placement of songs etc. However, the best part was the underlying theme which in my view was that the indian youth have immense energy, zeal and still the same fire (shola) in them as the youth in timesof bhagat singh et al. What we need is a right direction and a little motivation and support.


Vamsi Deepak: Alright, I wont go into the specifics of what the RdB is about, because its been covered extensively by the media. Let me start with somethings that made me feel bad about a very good movie.

Loose-ends/Flaws:
1) Sepia-film cross-cuts in the first-half didnt gel very well with the flow of the original movie
2) How could Sue make a film on such a grand canvas, without the demanded funds?
3) Isnt Sue speaking in Hindi too un-natural for a movie of this stature? (but, oh well, she had to.. :) )
4) Transition of freaky students into disciplined actors through a laugh-riot montage was not very convincing

5) Chandrashekar Azad has a more dominant presence than Bhagat Singh in the sepia.
6) The characters of defence ministers, party leaders, black commandos, police etc. dont have shades of grey, they are just plain black villians. Basically, system is just totally, totally messed up. Is it really?
7) AIR scene is practically a little too much
8) Whats the point? We all start a revolution against our problems when there is a personal crisis, and get killed?
But overall, at the end of the movie, you are ready to be very forgiving. For various reasons.
1) Well-written characters.
Any Indian, our age and rage, can identify with the feelings of these characters.
2) Unique storytelling and character-building.
The way each of the 5 characters develop, based on the sepia within, and life's circumstances is a novel idea of character building.
3) Bold ending.
Didnt you think that Sue will somehow stop those black commandos, just in time? You also prayed for it. But you also know that happily-ever-afters dont quite work well in these kind of movies.
4) Perfect casting.
Aamir, Siddharth, Kunal Kapur, Sharman Joshi, Atul Kulkarni.
No one hogs limelight (except for the sepia portions).
Siddharth's character also drives home the point that a meek and weak guy can also have a Bhagat Singh inside him.
5) Music, Masti, Magic.
A R Rahman's peppy, lovely songs, and Prasoon Joshi's witty, natural dialogues add tremendous entertainment value to a story which is too ambitious to be 'serious'.
We all curse and care for India, we all believe and disbelieve in its future. We are as clueless as these five guys about what they want to do in life. An outlet of anger, fear and hopelessness, RdB makes us - the X generation, lost between India's past and future - feel 'heard'.