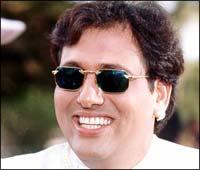 The industry can't write him off just yet. Govinda is on the comeback trail again. He's going to begin work with his favourite director David Dhawan next month, followed by Nikhil Advani.
And then there's the twist, with a hard-to-conceive combination indeed: Govinda, prince of the pelvis, is to be directed by India's most acclaimed female director, Aparna Sen.
Confirming the news that he'll star opposite Aparna's daughter Konkona Sensharma, Govinda says, "When Aparna Sen came to me with the part, I was thrilled. I have never worked with a female director. That too someone who has made such beautiful films. I loved Mr & Mrs Iyer.
| | |
| --- | --- |
| | More on rediff.com! |
| | |
"Secondly, I have never shot in Kolkata and that's another high for me. Because I love the city and Bengali culture. The last time I was so excited was when I did Awaargi with Mahesh Bhatt. Unfortunately, I frittered away that opportunity due to my over-committed schedule. This time, I intend to do full justice to Sen's wonderful script."

Tight-lipped as always, Aparna doesn't disclose much more than the fact that Govinda will indeed star in her first Hindi film. "I'm very reluctant to talk about my films in advance. But yes, Govinda is in my first, tentatively titled The Jewellery Box. When I met him, the first thing I realized was his sense of the comic. Govinda is a very funny human being, and that's the quality I'm going to tap in my film. I can see him and Konkona giving each other perfect comic timing," says Sen, fresh from applause for 15 Park Avenue.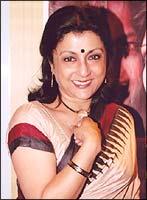 The Jewellery Box is the story of three generations of women. Govinda plays the hedonistic son of a zamindar's family who turns a blind eye as the family crumbles to bankruptcy. Interestingly, Sharmila Tagore will star as a ghost!
Paresh Rawal is also part of the cast and Aparna is very excited about it. "He is an immensely talented actor and I am looking forward to directing him, Govinda and Sharmila Tagore, whom I have never worked with before." Sharmila's daughter Soha Ali Khan will also feature in a fascinating double role. "I'm relieved to finally be doing a Hindi feature. I'm a good filmmaker; but a bad planner," smiles Aparna.
As is standard practice for her films, the actors will have to undergo a rigorous bout of workshops before facing the camera.
"At this point in my career, I need this challenge," says Govinda.