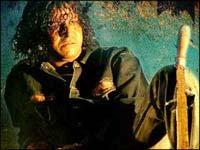 The year 2005 saw the Rs 200-crore Kannada film industry come out of the woods. It also saw the biggest hit in Kannada cinema history, in terms of collections -- Jogi.
Industry insiders expect this Shivrajkumar starrer (left) to rake in close to Rs 14 crore, phenomenal by regional cinema standards. Several others have seen multi-crore collections too.
"Strong storylines have helped," says K V Chandrashekar, a prominent exhibitor. "The improved production quality, in addition to good direction, also played a crucial role in ensuring that cinema buffs returned to watch movies again and again."
The high success rate has also meant fewer Kannada films, despite fewer Hindi releases in the South Indian state of Karnataka, where the language is spoken. Only 70 Kannada films were released in 2005, as compared to 99 the year before.
| | |
| --- | --- |
| | More on rediff.com ! |
| | |
With an estimated four of every five releases having succeeded -- a strike rate Hindi cinema would give arms and legs for -- the industry seems to be in high gear indeed.

This has had a cascading effect. Many producers have kept their plans in abeyance so that they may not be saddled with high-cost borrowings. Interest rates for cine ventures are as high as 10 per cent a month.

Given this, according to one producer, it is not wise to invest in production if you are not sure of finding a hall to exhibit the movie early enough while it is still fresh. A typical 'big-budget' Kannada film takes around Rs 2-3 crore to make, which is cheap by Hindi film standards, but bank funding of Kannada films is still almost non-existent.

The good news is the industry is expected to keep its momentum. However, one cannot expect much higher revenues in 2006 because the availability of screens is a constraint.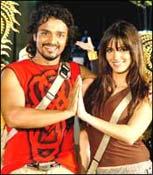 According to H N Gangaraju, President, Karnataka Film Chamber of Commerce, 2006 has several big budget movies waiting to be released. Among these are Shree, starring Vijayaraghavan (right), and Tanthege Takka Maga, with Upendra.
Piracy, or the lack of it, has played a role in the industry's revival too. "The prevalence of video piracy was very high in other languages, and this in turn had a positive effect on Kannada movies. Non-Kannada movies had poor collections. Hindi movies saw a considerable drop because the releases had happened only in 12-15 theatres, and mostly in multiplexes," notes Chandrashekar.
But even if other language films were to put up a better show, Kannada filmmakers won't complain. They know their market.