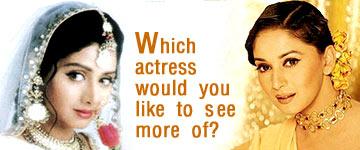 For all you Kajol fans, there's much good news, as the actress will make her comeback in Kunal Kohli's new film, Fanaah.
And according to the grapevine, Madhuri Dixit hopes to make a comeback too, sometime soon.
But there are a bunch of other 'retired' actresses, whom we would love to see more of. Like Sridevi, Karisma Kapoor and Sonali Bendre...
Which actress would you like to see more of? Tell us!