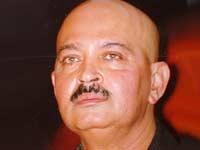 The biggest film of his career is ready, but Rakesh Roshan is not worried. The mega-budgeted Krrish, a sequel to Koi Mil Gaya, will hit theatres this summer, and the director is confident of its success. 
Vickey Lalwani chatted with him briefly to find out why he is so sure. Excerpts:
What do you feel about the high expectations from Krrish?
Let's hope it works. No maker can guarantee the success of any film. But yes, I know people are looking forward to the combination of Rajesh Roshan, Hrithik and me.
I have tried my best and put my best foot forward. People coming to see this film will get their value for money.
Not really. There was scope to make it, so I did. If you observe, I left an open ending in Koi Mil Gaya.

Did the success of Koi Mil Gaya strengthen your belief in making the sequel?

Definitely. Its success mattered a lot.

What is Krrish all about?

It begins where Koi Mil Gaya ends. So people will see Rohit's son, and definitely not Rohit. Yes, there are a few scenes with Rohit, and Preity Zinta in a special appearance. But, by and large, Krrish is a different film.

What made you shoot more than half your film in Singapore?
The locales are chosen by the demand of the script. The film demanded a modern kind of look, so the city's buildings and beautiful landscape suited it perfectly. 60 per cent of the film has been shot there. I thank the Singapore government for being very cooperative.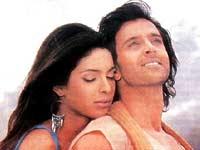 Priyanka Chopra was your second choice for the heroine. You wanted Ash.

That's right. When I approached Aishwarya Rai, she showed keen inclination. But later, I learnt she was committed to some international projects. I approached Priyanka and she had the dates I wanted. She also suited the role. These things do happen. There is nothing to brood about.

Did she have to lose lots of weight to look good with Hrithik?

(Long pause) Not really.
 
Was Hrithik the only choice for the main role?

You may not believe this, but I screen-tested Hrithik. This is the procedure I follow in every film, with the starcast. I wanted to make sure he suited the character needed, with the make-up and costume on. If he hadn't suited it, I may have taken someone else. After I told him he was on, he worked hard on his body and grew his hair.

Is the film similar to Superman?
Hrithik plays a powerful man here, like Rambo. He'll be the first superhero of Indian cinema.
When do you plan to release the film?

In June.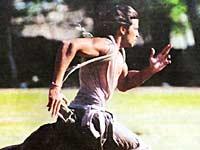 The Hollywood blockbuster Superman Returns is scheduled to release at roughly the same time..
That is immaterial to me.

Rekha plays Hrithik's grandmother here. How did you convince her for the role?

She played Hrithik's mother in Koi Mil Gaya. She was initially hesitant to play his grandmother. I told her I was making a sequel and wouldn't be able to if she turned down the role. Just watch her in the granny's role, she is mindblowing!

How did you feel when Hrithik met with an accident in Singapore?

Well, so much has been written about it in the papers. But since you insist, here it is. Hrithik fell mid-air. Before I could understand what was happening, I saw him fall. The canopy saved his life. I ran towards him, he gave me a thumbs-up sign, and I heaved a sigh of relief.