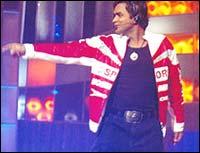 I don't believe in winning or losing," said Debojit Saha earlier today. He no longer has a choice.
The 29-year old from Silchar, Assam, has won Zee TV's Sa Re Ga Ma Pa Challenge 2005, beating 17-year old Vinit Singh in a closely fought and much-watched contest.
Debojit, a civil engineer by profession, came to Mumbai three years ago to pursue a career in singing. He says it was his wife who played an instrumental role in making sure he stuck to his agenda. Assam voted in full force, but the rest of the nation appears to have chipped in as well, considering tonight's results.
Another interesting thing the winner said earlier was how he wanted to be a common man all his life. Tough luck, Debojit. You're famous!