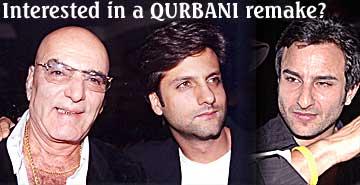 With every other Friday release turning out to be either a remake or a ripoff, Feroz Khan has decided to hop aboard the bandwagon. The remake in question will be his own 1980 superhit, Qurbani. Evidently, Khan believes audiences would like to see the film again.
Fardeen Khan will play Feroz's role, while Vinod Khanna's role will be essayed by Saif Ali Khan. For the sexy Zeenat Aman role, Feroz has reportedly approached Priyanka Chopra, while he himself will play the role formerly tackled by Amjad Khan.
What do you think?
Is a Qurbani remake a good idea? Would you be interested enough to go watch?