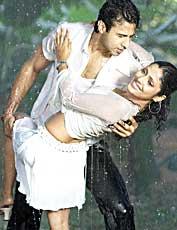 Aryan Vaid -- known for featuring in skin flicks like Market and Chahat Ek Nasha -- romances newcomer Megha Chatterjee in a steamy rain scene in the promo of the upcoming Aisa Kyon Hota Hai. The film also has an item number.
What's new, you ask? The answer is that the film is produced by the Catholic Church -- the Archdiocese of Delhi.
"We wanted to make people aware about the danger of AIDS and therefore we thought why not make a film on this subject," says Reverend Dr Dominic Emmanuel, the Archdiocese spokesperson, who is also the executive producer of Aisa Kyon Hota Hai.
"In India churches have not gone beyond making film documentaries with social messages. So, we thought why not make a film -- it is a popular medium watched by everyone from the masses to the classes," Rev Emmanuel adds. 
The film, which also features Rati Agnihotri, Johnny Lever, Avtar Gill and Shruti Mehrotra, is about an illegitimate child who grows up disillusioned about love and attachment. The film then deals with the issue of AIDS and also stresses on communal harmony.
| | |
| --- | --- |
| | More on rediff.com! |
| | |
"We went to all the television channels to make a serial out of this subject but no one was interested. So we thought why not make a film," informs Rev Emmanuel.

But can the cast pull in the audiences? "Our star is the story of the film. Our object is not to make profit from this film but to send a message to society," replies Dr Emmanuel.

"We want to highlight that one should be loyal to your partner in this time and age when the families are breaking up in our society. If you don't honour commitment in your relationship then you get into negative consequences in life," he continues.

"At the same time, we want to highlight the issue of communalism and make a point that it is in the interest of all communities to live together peacefully," he adds.

The film, directed by Ajay Kanchan and shot with a budget of Rs 2 crore (Rs 20 million) in a 45-day schedule, is being distributed by UTV. The five-song soundtrack is being promoted by Times Music.