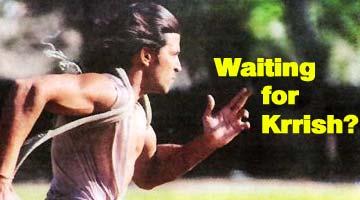 Thanks to Rang De Basanti, we have all seen the promos of this film.
After a vanishing act in 2005, Hrithik Roshan is all set to bounce back this year, and his Krrish is coming up in July.
The much-anticipated Koi... Mil Gaya sequel revolves around Krrish, Rohit (Hrithik from Koi.. Mil Gaya) and Nisha's (the role played by Preity Zinta) son. The kid is -- you must have guessed it -- a superhero.
So even as our bicep-baring Duggu leaps through the air with a Matrix overcoat in a trailer with a severe Spider-Man 2 hangover, the question is, will Krrish work?
Will the special effects be half as good as they need to be? Will Hrithik manage to play a superhero? Is India ready for a film like this?
What's your take, dear reader? Are you waiting for Krrish?