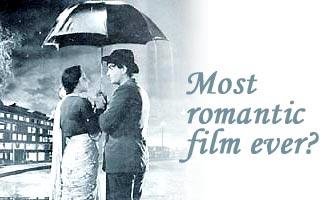 Movies are all about romance.
Be it a black-and-white couple silhoutted in the rain under an iconic umbrella, or a young brat doing all it takes to impress his almost-married lover's strict parents, cinema has forever influenced the way we think about love.
From wooing a woman, to asking her to dance, to picking out an anniversary present, most of us have, at some point, been influenced by romantic cinema.
Now, as Valentine's Day looms, we ask you, rediff readers, to tell us what your favourite romantic film of all time is.