Like his super-dad in The Incredibles, young Dash Parr was over-zealous to flaunt his super powers and save the day. Nemo, the clownfish, wanted to prove to his over-protective father that he could swim in the deep blue sea in Finding Nemo.
These animated heroes took their own sweet time and an adventurous climax to learn a precious lesson: With great power comes great responsibility. The good thing is, they achieved what they set out for – success.
Abhishek Bachchan is no toon. But his story is fairly identifiable with the ones just mentioned. Okay, so he wasn't bestowed with supernatural energy or lucky limbs, but he was born to a superstar for whom we have exhausted all flattery: Amitabh Bachchan.
| | |
| --- | --- |
| | More on rediff.com! |
| | |
Being his father's son had its perks – ready-to-wear celebrity-dom and a wireless network within the film industry. Disadvantages were not far behind though, namely unrealistic expectations and unreasonable evaluations.

At the dawn of the new millennium, he made his entry into the field, amidst giddy fanfare and persistent comparisons to another entrant that year, Hrithik Roshan. His failure to woo the box office turned out to be nearly suicidal for his career.

Even through this hopeless phase of flop-at-every-stop, one thing that worked in the actor's favour was his proficiency at the skill. You may have thumbed down his garish dressing sense or tittered at his apparent awkwardness to nuzzle with the heroine, but his performance was consistently pleasing. Yes, even in yawn-inducing bores like Haan Maine Bhi Pyaar Kiya and Bas Itna Sa Khwaab Hai.

Success finally showed its sunny side up to this articulate Aquarian in 2004. Dhoom, Bunty Aur Babli, Sarkar, Dus and Bluffmaster were all declared hits. The lanky lad was finally, and deservingly, on a roll.

On the occasion of his 30th birthday, fast approaching on February 5, rediff.com profiles six highlight performances of Abhishek's career.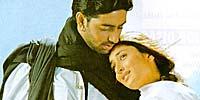 Name: Refugee

Director: J P Dutta

Co-star: Kareena Kapoor

To cut a long story short: A cross-border romance with its share of bubbling jingoism and gentle music.
The USP factor: Marked the debut of star children Abhishek and Kareena. Anu Malik's collaboration with Dutta and lyricist Javed Akhtar, post-Border, rocked the charts yet again.
About Abhishek: It was an unconventional debut for an audience thriving on guitar clinging-bike swinging swashbuckling hero types. Here was a hero ethnic in appearance and expression. His screen presence was an intriguing mix of brooding intensity and naive reticence. Though his character wasn't backed by sufficient subtext, his layered persona was revealed reel by reel.
Refugee wasn't a bad film, but it was extremely lengthy. Though Abhishek's performance was appreciated, co-star Bebo walked off with a greater share of the booty. Even so, it's his first film and he has every reason to frame the DVD.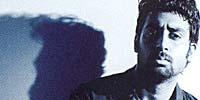 Name: Yuva
Director: Mani Ratnam
Co-star: Ajay Devgan, Vivek Oberoi, Rani Mukerji, Kareena Kapoor and Esha Deol
To cut a long story short: What happens when three young men -- on the right side, wrong side and lost side of life, respectively -- are thrown together?
The USP factor: A Mani Ratnam film boasting an amazing line up of stars and A R Rahman's dynamite music. Also, this one was set in Kolkata and not amchi Mumbai, for a change.
About Abhishek: Majority wins. And popular opinion vouched for the actor's menacing avatar over Devgan and Oberoi. His raw, browbeat portrayal made you uncomfortable. Comfortably crude and unapologetically greedy, he evoked scorn. Even though Yuva had a diluted impact on viewers, Abhishek's emotionally baring performance as Lallan Singh won critical acclaim.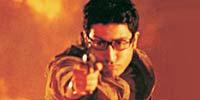 Name: Dhoom
Director: Sanjay Gadhvi
Co-star: John Abraham, Uday Chopra, Esha Deol and Rimii Sen
To cut a long story short: A cool cop, a crook with a conscience, and a gang of pizza delivery boys that robs during nightshifts. Not to forget two very hot women who love to flaunt their gym-blessed figures.
The USP factor: A desi vroom vroom of Fast and the Furious from the Yashraj stable, it gave a new lease of life to its cast and crew. Pritam's sexy title track, Tata Young withstanding, only helped.
About Abhishek: His bespectacled look was sweet all right! His understated and no-nonsense ACP Jay Dixit blended neatly with Uday Chopra's monkey tactics and John Abraham's sleek attitude. Dhoom made a lot of sound at the box office. Loud enough to kick-start a sequel. This one's said to be cooler and more glamorous, but with added attractions like Hrithik Roshan, Aishwarya Rai and Bipasha Basu.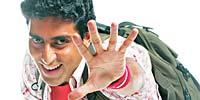 Name: Bunty Aur Babli
Director: Shaad Ali
Co-star: Amitabh Bachchan, Rani Mukerji
To cut a long story short: Bunty and Babli's joyride from ambitious daydreamers to successful con artistes. To spoil the party, a quirky cop shows up.
The USP factor: The two Bachchans share screen space for the first time. It doesn't get any bigger than this. Plus Aishwarya 'Kajra Re' Rai. Paisa vasool!
About Abhishek: He's played a small city bloke in many films. But there was something adorably cute and spontaneously silly about his character Rakesh building an imaginary alter ego to feed his naughty side. The stupidity of it all was carried with carefree conviction – just what a con man is all about. His chilled out chemistry with his electrifying Pa and the gifted Rani only gave wings to their collective madness. And Bunty Aur Babli sang all the way to the bank.
Besides playing a lead under the Yashraj banner, doing cameos has also been a bull's-eye move in the actor's career. Remember the Mills 'n' Boon style ideal hubby of Hum Tum or the nutty doctor (a roaring ode to Robin Williams' part in Nine Months) of Salaam Namaste?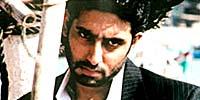 Film: Sarkar
Director: Ramgopal Varma
Co-star: Amitabh Bachchan, Kay Kay, Katrina Kaif, Tanishaa
To cut a long story short: Godfather comes to Mumbai!
The USP factor: The Bachchans!  What else? This was Ramu's tribute to his favourite book and film – The Godfather.
About Abhishek: Frankly, this is one time when Don Corleone and Sonny hogged the footage, and Michael Corleone took a back seat. It was always a Big B show and Kay Kay with his incensed charisma left Abhishek with very little. To his credit, despite a flawed character sketch, his modest attendance and deliberate restraint did not go unnoticed.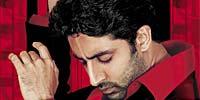 Name: Bluffmaster!
Director: Rohan Sippy
Co-star: Priyanka Chopra, Riteish Deshmukh, Nana Patekar, Boman Irani
To cut a long story short: Once a con man, always a con man! Only this time we don't know who is conning whom.
The USP factor: A very interesting mix of actors and equally fiery assorted movie score coupled with snazzy visuals and Abhishek's rapping skills.
About Abhishek: Think Bluffmaster. Think Abhishek in a fur suit doing a Will Smith. The man can rap, swindle, seduce and sell. Suave, sophisticated, arrogant, foul, cool – Rohan Sippy captured his childhood buddy in all his moods and moments. A fantastic on screen partnership with Riteish made the proceedings all the more pleasurable. Audiences were readily bluffed and everyone got their money's worth.