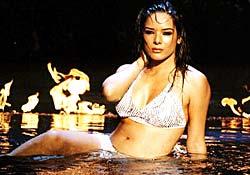 At times, it gives you a splitting migraine. At other times, it turns you into a hard-boiled cynic. At still other times, it pushes you towards philosophy.

A bad film stinks. Agreed. But it is powerful, nonetheless. It can do all of the above and much more. 
My love affair with miserable movies continues. This time, it triggered the hog in me. It took approximately one bag of popcorn, two chocolate donuts, one sev puri and a cappuccino to wash down Aksar.
Sukanya Verma