With a stream of films like Hera Pheri, Hungama, Hulchul, Garam Masala and Malamaal Weekly, Priyadarshan has pretty much made the comedy genre in Hindi films his own.
The ace director is now set to keep the trend going with his latest release, Bhagam Bhaag. 
Starring Akshay Kumar, Govinda, Lara Dutta, Paresh Rawal and Tanushree Dutta, Bhagam Bhaag revolves around the travails of a theatre troupe that lands up in London for a show, and finds itself in trouble in its bid to find a heroine.
Up next is Dhol, starring Tusshar Kapoor and Kunal Khemu; Priyadarshan also has in the works another film Vidya Balan, Shiney Ahuja and Akshay Kumar -- and a ghost.
The director is known for his lack of pretension; that trait is underscored by his comment on his upcoming film: "Bhagam Bhag is what people expect of a Priyadarshan film. Keep your brains at home, come and have fun."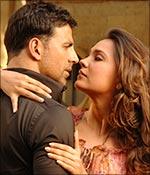 Which sequence in Bhagam Bhag made you laugh while directing it?
There is a slapstick sequence in the film that I enjoyed the most, while shooting. The police corner the theatre troupe in central London from all sides. They are on the run, and trying to escape. All the confusion that is created then made me laugh even as I was directing it.
There is another scene, where the villains catch Paresh Rawal, mistaking him for a cop, and begin torturing him; all the while, the poor fellow doesn't know why he is being tortured.
What was the toughest sequence to shoot?
The climax scene of the film was the most challenging of all. In it, honeybees attack the artists while they are inside a clock tower. They keep running in order to escape from that -- the people running around, fire engines, cop cars racing to the scene to save them, a 1,000 whopping Englishmen -- it was the longest and toughest scene to execute. My whole film was shot in 58 days; of that, I took 12 days just for this scene.
We had to then come back and recreate it in a studio in Chennai, with stunt men performing stunts from a height of 78 feet; I was really worried then.
Does the humour in the film make its way onto the sets, too, while shooting?
I am very stressed while working; I never see what is happening around me. My focus is on whether the sequence is working or not.
What comedy flicks have you personally enjoyed?
When I was growing up, I enjoyed Hariharan's Aiyelate Sundari [Girl next door]. I was a great fan of Charlie Chaplin, Laurel and Hardy; they always inspired me.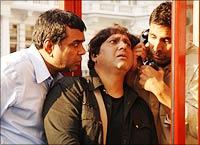 In an earlier interview, you said serious films like Viraasat have been closer to your heart. Do you intend to make serious films again, or are you happy with the comedy genre?
I have two non-comedy films in the pipeline: one with T Series starring Naseeruddin Shah and Bobby Deol, and another with Shemaroo.
After making Gardish in Hindi, I found trends were changing and that people wanted more entertainment. I attempted Hera Pheri at a time when people believed comedies don't work in Hindi cinema. When Garam Masala and Hungama's worked in the South, I tried them in the North also, and they worked. After that, I was pretty much forced to continue with comedies, because the audience was lapping it up.
Today, comedies work; films like Apna Sapna Money Money and Golmaal, which I did not direct, also did well. Personally, I don't claim to be a great director. My films are made for children, not intellectuals.
Will you maintain the lighthearted element in your forthcoming serious films also?
In Virasat too there was an element of humour. I don't force humour into a film, it comes naturally to me. There is some basic humour in everybody's life, which I try to bring into my movies so as to keep them interesting.  
Virasat did well. But when you tried your hand at Kyon Ki, it didn't do well. Were you disillusioned by the fact that your serious films were not working anymore?
I cannot think like that. To begin with, I killed Kyon ki myself by releasing Garam Masala opposite it. A lot of people liked the film, but it did not do as well as the original Thalavattam, that I had made in Malayalam.
The promotion of a film before its release has become as important as the making of the film. If you make a small mistake on your promotion it can blow things. There aren't any more silver jubilees and 100-day runs in cinema. Everything depends on that first week from the time of the film's release.
You have to make something very attractive for the audience, to compel them to come and watch the film. I will be very careful when I make a serious film; I will try to make it interesting. If it doesn't work, I will go back to comedy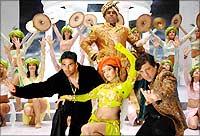 Neeraj Vora has been writing most of your films. How does the brainstorming between the two of you work?
I have written and directed 36 films in the South, but when it comes to Hindi I need a writer who understands my way of thinking and looks at humour the way I do. Neeraj and I used to talk to each other when he was acting in Virasat, and that's when I found him.
Later, when he got busy with some other assignments, I got Manisha Gorde to write Malamaal Weekly. She was working with Neeraj, and understood my vision. It's very important to get a writer who understands the way a director thinks.
What happens during these brainstorming sessions? Do the two of you discuss scenes, shot breakdowns, dialogues?
Yes we do. The moment we laugh at a particular scene or dialogue, we know it is part of the story. If the laughter is forced, we don't attempt it.  
You said you would not do a sequel to Hera Pheri, but a sequel happened and your writer went on to direct it. Did that change the equation between the two of you?
No, it did not change anything between us. I feel one film can be made only once. Phir Hera Pheri was offered to me first. I did not want to make it. They are now making Malamaal Weekly 2, which was also offered to me, but I wont do it.
In cinema there are no permanent enemies or friends. Everyone works together for the benefit of that one project. The moment you show sincerity to your project, things will work for you. Personal vengeances and difference of opinion are petty things in cinema.