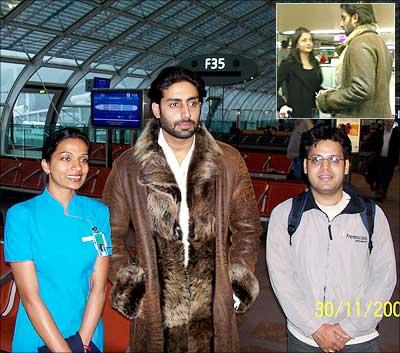 Some people have a better time at airports than the rest of us.
Reader Tanuja Bhosale writes in, talking about her husband Udaysinh, on his way to Toulouse, France for an official assignment.
Uday boarded his flight in Mumbai on November 30, 2006, and was dazed to see Abhishek Bachchan, Aishwarya and her mom Vrinda Rai also aboard the early morning flight.
Special: Tracking the Abhiwarya story
Thanks to cellphone cameras, Uday snapped a couple of shots at Paris airport. After Aishwarya and her mom left the airport, he went up to Abhishek who was waiting in the lounge and took a picture with the star.
Tanuja assures us that the stars 'are really very good looking and patiently signed autographs for fans.'
If you encounter/meet/see film or television personalities and photograph them, please scan the photographs and
mail the pictures to us
. We will feature the best images right here on Rediff Movies.