His first film
Kehta Hai Dil Baar Baar
  was a washout, and while chances are that you haven't seen his excellent second film,
Parzania
, based on the story of a family ravaged by the Gujarat riots, Los Angeles-based director
Rahul Dholakia
just picked up the Best Director honour at the 53rd National Awards. His leading lady Sarika, won best actress. Of course, as of now, this is unofficial.
Premiering his film in Goa at the International Film Festival of India 2005, Raja Sen and the filmmaker sat, sun-drenched on a convenient yacht in December, and talked about his brave, intensely personal new film. Excerpts:
Before we talk about Parzania, lets go to the basics. What's your background in filmmaking?
I did a masters in filmmaking from New York. Before that, I did advertisement films for agencies like Procter & Gamble in India. After my masters, I did a lot more documentaries and commercials and awards -- some of which won awards, and some of which didn't, and (so) were shown on air (laughs). And then I ran a TV station for a while called TV Asia, a 24-hour channel in America. Meanwhile, there was a lot of other media stuff side by side, like a youth dance competition called Naya Andaaz, which has been going on for the last 13 years, and every year, it's a house-full show. We do it to promote local Indian talent in America.
And then came your first feature?
Right. Kehta Hai Dil Baar Baar was a comedy, shot in America. It's about a Patel family in New York. Paresh Rawal, Jimmy Shergill and Kim Sharma were the three principals in the film. I think it was the first (Indian film) to be shot over a 45-day stretch in America. It had some good music by Jatin-Lalit, and then after that came Parzania.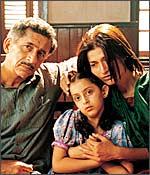 Kehta hai was as different as a film can get from Parzania...
Yeah, very 'different' (grins). Thanks for being kind. The thing was that I had to make films. I had done all sorts of media from advertising to television to public service stuff to documentaries, and I wanted to make a feature, and I went to these producers of mine and gave them a script, and they said that it was too big-budget. They told me, 'We've seen this film; it's a cute film, why don't you make it in Hindi?' So that's how Kehta Hai Dil Baar Baar happened.
So the film is an adaptation?
Yeah, it's a bad adaptation of Meet The Parents. Something interesting with that film that is similar to Parzania is that characters in that film were Indian-American, and based on people we -- Paresh Rawal, Neeraj (Vora, the film's writer) -- all knew. It was the first film, so you had to do a lot of work and you don't know a lot of things. Now with the second film, you still don't know a lot of things. But you're learning.
So were you disappointed that it didn't do well?
No, I wasn't, because I wasn't expecting too much. I was just telling somebody that the passion and effort were the same for me for both movies, but the thing is that the first film was never publicised well. But we can keep blaming people, and the fact is that the movie was not that great and didn't do very well over here, and did much better in the US and on television, but that may be because nobody saw it in theatres (laughs).
You were saying Parzania is a very personal film for you?
Yeah, it's the story about a friend of mine. I was with the family on January 14, flying kites. One month later tragedy struck, in this form. The complete family which was smiling -- the last image I had of them -- was shattered. And why? For what reason? Because they belonged to another religion? Because somebody else committed a crime somewhere else? So all these things were preying on my mind when I was in the process of releasing Kehta Hai Dil…
And it really affected me at that stage that Gujarat where I am from, where that family is from, which is Gandhi's home state, the so-called non-violence state -- they respect prohibition there because it's Gandhi's state, but you go around murdering people openly and nobody does anything about it? So I felt somewhat responsible both morally and socially and I felt that if I don't speak up as a filmmaker then I don't have any right to tell anyone anything else. I'm as guilty as the people who did it. If we don't speak up, who will?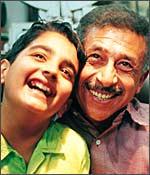 Parzania has a very direct, strikingly straight viewpoint. Is that exactly how you personally see the political dynamic?
Parzania is an evolution of a lot of things. First of all, a film like this is honestly not just one story telling the story, it's a whole lot of life experience coming through. And it all culminates onto script and to the screen. It's not just my life experiences, it's Naseeruddin Shah's life experiences, Sarika's life experiences; every person in the unit, their little nuances, and their beliefs. It's a collective statement. Everybody worked from the heart, and everybody wanted to convey the same message, and therefore it was so focussed. If everybody had a different agenda, it would be all mixed up. And the beauty of it is that none of us has a political agenda. We all have only one concern, and that is what are we doing in the name of God, in the name of religion? Killing people? It's ridiculous. That's why I always say, Parzania is not pro-community; it's pro-humanity.
Quite a heartening surprise to see such an inflammatory film passed without cuts.
I think the reason they passed the film without major cuts is that they saw the film in totality, and only if you see this film in totality will you see what the filmmaker is trying to say. We're not trying to instigate people or to sensationalise an issue. And we're not trying propaganda over here. There is a difference between making a film we believe in and making a film we think we believe in. And here I think everyone believes in the film, which is why the 10-12 members of the Censor Board saw it .
And that's why I think it went through without any problems. Yes, there was an expert panel brought in to see the film, but we were glad about that decision. Admittedly, it is a sensitive subject and needs to be handled properly. We'd researched this film extensively over a year and a half, and that showed.
Did you feel lucky when that clearance happened?
Hell, yeah. When you talk of censorship in India… I was very worried, and when I started making this film I wanted to make it in English just because I wasn't even sure if it would get released in India. I mean, now there's a ban on smoking in films? You never know what they'll ban next. And it's not just 'them,' there are so many of these lobbies. The Censor Board is just there to implement the rules, but the ones who make the rules are the ones who need to change, be more liberal.
Tomorrow: 'There will be people who will create problems for the Parzania release'