Rediff.com invited readers to send in their reviews of Karan Johar's Kabhi Alvida Naa Kehna, and be part of the Rediff Movie Reviewers group.
The response was very good, and selecting the top ten reviews was an interesting task.
Last Monday, we featured Amodini Sharma's review. On Tuesday, we featured Abhishek Asthana's review. On Wednesday, we featured Sumier Phalake's review. On Thursday, we featured Kiran Kamath's review. On Friday, we featured Arun Ganesh's review.
Today, we feature a review by Tasneem Karbani.
Similar to the characters in Kabhi Alvida Naa Kehna, I'm dissatisfied. Should I give this movie a second chance the way Dev Saran and Maya Talwar do their respective spouses? Or shall I go down the less-travelled road, like Dev and Maya, and declare to the world that I have lost complete faith in Karan and his directorial talents? Maybe I should place my faith in truly original directors such as Rakeysh Mehra and Vishal Bhardwaj. Or maybe Karan should take more lessons from the latter two directors and stop being a YashRaj Xerox machine.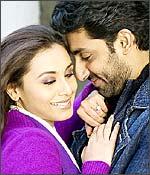 The truth about KANK is that you can either love this movie to death or hate it with your whole being. It is Karan's failed and forced attempt to try to be different. Karan earlier assured movie buffs, such as me, that having been inspired by Sanjay Leela Bhansali's Black he was determined to be different. He had already made two blockbuster films; it wouldn't hurt if he ventured away from his typical formula and experimented with a new concept.
Indeed, Karan did do something different in his recent film: he replaced his favorite 'Jaya Aunty' with the flavor of the season, Abhishek Bachchan. Karan's decision to cast Abhishek in his latest movie merely proves that Karan can't let go of his YashRaj apron-strings.
If Adi (producer Aditya Chopra) cast Abhishek in Dhoom and it became a subsequent superhit, maybe it would work for Karan too. Still, Abhishek does deliver a natural and relaxed performance.


KANK is a mediocre film at best. Karan dares to ask his viewers: What if you find your soul mate after marriage? What do you do? Do you commit adultery?

YashRaj's Veer-Zaara and Bunty-Babli pairs have marital troubles in KANK. Dev (Shah Rukh Khan) is bitter and angry at the world due to his leg injury that prevents him from pursuing his dreams of being a soccer player. His wife Rhea's (Preity Zinta) success increases his bitterness.
On the other hand, Maya (Rani Mukerji) is unhappy with Rishi (Abhishek) despite the fact that he loves her.
From the credits, it's obvious that Dev and Maya are soul-mates and are meant to be together. The next three-and-a-half hours of songs, tears, and some over the top laughs trace the growth of their love.
Karan dares to say that infidelity is justified if you've found your soul mate -- a message starkly different from the superduper hit adulterous story of Murder.
Still, KANK has its moments. The interplaying images of Preity and Abhishek celebrating their marriages in Where's the party tonight and Rani and Shah Rukh booking into a hotel room is done particularly well. It's the one part in the movie I felt sympathy for the characters.
Shah Rukh gives a performance as a bitter, sarcastic and jealous lover that is terrific in parts, but not in entirety. Rani looks beautiful. Abhishek makes his presence felt. Preity shines when she confronts Rani at the end of the movie. Amitabh Bachchan contributes nothing to the story. He overacts. Kirron Kher looks wonderful, and even better than the heroines in some scenes. The cameos by Kajol, John Abraham, and Arjun Rampal add nothing but star value. The songs are not the best. The length is hard to handle.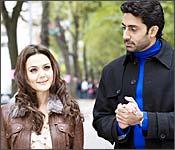 But the best part of the movie is the child artist who plays Shah Rukh's son Arjun. If there is only one scene in KANK that I can remember with fondness it is when Arjun tilts his head, smiles, and swoons at a cute little Indian girl. Tujhe Dekha To Yeh Jaana Sanam plays in the background. Lost in his love, he follows a girl he barely knows. A girl he just knows in his heart is right for him. Perhaps that is what Karan was trying to convey in his movie.
Too bad the 'Black Beast' Karan didn't convey that message in a shorter time with better songs and more realism. Maybe if Karan wants to be different he should start making short films? Either that or take some inspiration from Vishalji and Rakeyshji.
Tasneem Samira, 19, is majoring in religious studies and history at the University of Alberta, Canada.