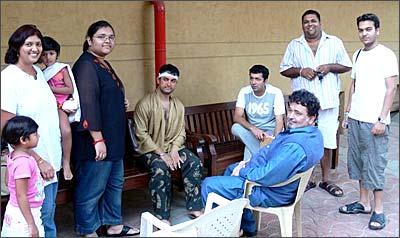 Reader
Yatisha Ramdarie
got a chance to visit Yash Raj Studios in Andheri, northwest Mumbai, and watch a bit of the
Fanaa
shooting, on her vacation to Mumbai in January. She lives in Durban, South Africa.
In this picture, Yatisha poses with Aamir Khan, Rishi Kapoor and director Kunal Kohli, and her family.
She also met Kajol, fashion designer Manish Malhotra and cinematographer Anil Mehta.
From left to right (standing): Yukta Ramdarie, Ishana Ramdarie, Idha Ramdarie, Yatisha, Kusheel Ramdarie and Yashiv Ramdarie. Sitting: Aamir Khan, Rishi Kapoor and Kunal Kohli.
If you encounter/meet/see film or television personalities and photograph them, please scan the photographs and mail the pictures to us. We will feature the best images right here on Rediff Movies.
Also check out: John | Abhishek | Shah Rukh Khan | Bipasha | Amitabh, Rani | Yash Chopra | Ram Gopal Varma