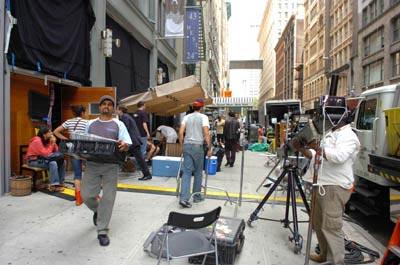 It's not Karan Johar alone who likes shooting in New York these days.
His mentor and buddy producer Aditya Chopra too has decided to use Manhattan as the backdrop for his new film, Tara Rum Pam Pam.
Directed by Siddharth Anand, who made last year's Saif Ali Khan-Preity Zinta starrer Salaam Namaste, TRPP features Saif and Rani Mukerji in the lead. There is also talk that Abhishek Bachchan will play a role in the film.
And guess where Yash Raj Films decided to shoot one of the scenes in the film?
At Sapa, the hot new restaurant, located in the same building as India Abroad, the legendary Indian-American newspaper owned by rediff.com, and on a street where movies like Spiderman 2 have been shot.
Rediff India Abroad staffers and Deputy Chief Photographer Paresh Gandhi rushed to the site after they learnt that Rani was shooting a scene at Sapa, where trendy New Yorkers are seen to lunch and dine these days.
But the sets were off-limits to the media.
Paresh complains that a group of three men and one lady surrounded him just as Rani was leaving the sets, telling him he could not shoot the actress as she was in costume!
So, dear reader, this is the best image we have for you. No Rani alas, but a glimpse, nevertheless, of a scene from the sets of yet another Indian movie being shot in New York City.