R
ediff.com invited readers to send in their reviews of Karan Johar's Kabhi Alvida Naa Kehna, and be part of the Rediff Movie Reviewers group.
The response was very good, and selecting the top ten reviews was an interesting task.
On Monday, we featured Amodini Sharma's review. On Tuesday, we featured Abhishek Asthana's review. On Wednesday, we featured Sumier Phalake's review.
Today, we feature a review by Kiran Kamath.
Dear Karan,
What were you thinking when you cast Shah Rukh Khan as Dev? As a disenchanted ex-'football' player whose career abruptly ends in a car accident, no character in the movie is miscast more than SRK. It is difficult to sympathise with Dev who just grumbles, pouts and cries like a school girl. Maybe, it's Shah Rukh, who fails to evoke any sort of sympathy for him by his loud acting. Hell, I sympathised with Aamir's character Rehaan in Fanaa and he was supposed to be a terrorist!
But, Shah Rukh simply can't portray the emotions needed for the viewer to have even an iota of compassion for Dev. Every Shah Rukh acting moment has:
a. Over-acting
b. Heavy breathing
c. Facial contortions
d. Extensive arching of eyebrows, and finally the grand daddy of them all,
e. Copious tears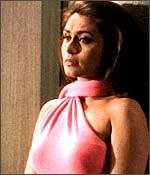 And why does he say football every time? I guess Karan Johar didn't know that Americans call it soccer. Football is an entirely a different game in the United States. More research, dear Karan.
What were you thinking when you cast Amitabh Bachchan in Ali-G clothing gear? Those loud fur lined coats made him look more like a cheap wannabe gangsta rapper! It's Amitabh who provides the comic relief and the few scenes he shares with Abhishek are amongst the best scenes, which stick in your mind long after you have rushed out of the theatre searching for headache medicine at the nearest Walgreens! Amitabh plays his role with gusto and proves that he isn't India's best actor for nothing.
What were you thinking when you cast Rani Mukerji as a crybaby Maya? Damn dude, all she does is cry, cry and cry a little more. She cried more in KANK than Nirupa Roy must have cried in all her movies. There is no justification for her to cheat on Abhishek. Let me see, she claims that Abhishek acts like a child and she starts a friendship with Shah Rukh who comes across as a disgruntled and irritating character. Now all Shah Rukh does is complain and of course, cry.
Now, aren't complaining and crying childish attributes? Maybe the glycerine in her eyes made it hard for Maya to see that Shah Rukh was the child, not Abhishek. To be honest, after a superlative performance in Black, it is disappointing to see that Rani's performance left much to be desired.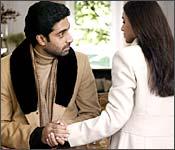 The movie would have been unbearable if it weren't for Abhishek Bachchan and Preity Zinta.
Preity does a great job in a half-baked role. I wish her character was more developed and she had more scenes. The feisty Preity comes to the fore in two scenes and she does a wonderful job. One, when Shah Rukh and she have an argument over the job promotion which she refuses, and two, when Shah Rukh confesses on having cheated on her. Notice her facial expressions when she says that the marriage is over.
Abhishek has stepped out of the shadow of his illustrious father and how! He shows a flair for comedy in the scenes with Amitabh. In the confrontation scenes with Rani, especially the last scene when he learns about Rani's extra-marital affair with Shah Rukh, Abhishek truly excels. That last scene covers a gamut of emotions, from anger to despondency, and Abhishek gets high points for that. Not once does the viewer feel that he is doing an acting job. A complete natural!
Technically, the movie has a Hollywood look. However, what could have had been a two- and-a-half hour movie has been stretched unnecessarily for three-and-a-half hours. Guess not just the audience but even the editor fell asleep while watching the movie.
Kiran Kamath, 30, is currently based in Houston, Texas, USA, and works at a software firm.