Rediff.com invited readers to send in their reviews of Karan Johar's Kabhi Alvida Naa Kehna, and be part of the Rediff Movie Reviewers group.
The response was very good, and selecting the top ten reviews was an interesting task.
On Monday, we featured Amodini Sharma's review. On Tuesday, we featured Abhishek Asthana's review.
Today, we feature a review by Sumier Phalake.
Kabhi Alvida Naa Kehna is based on one sole idea, and no, it's not infidelity. It's based on Karan Johar's fantasy of making a more gritty, hard hitting, serious film. A real look at love and relationships. Does it work? Only sometimes.
There's one question I would love to ask Karan. How did a director, who had such a great handle on what makes a masala Bollywood love story work, forget everything he had learnt in his first two films?
KANK is a strange ride. It makes you laugh, keeps you interested for the most part, but in the end, you come out feeling hollow inside. Ultimately, it does not end up being a satisfying experience. Karan would probably say that that's what he always intended. To make a gritty look at relationships falling apart; that you are not supposed to be happy with the way it turns out. But as someone watching the movie, I couldn't tell what I was supposed to feel.
Why is a serious movie about infidelity, love and marriage wrapped in the sugary sweet candy of a typical Karan Johar film?
The movie revolves around two couples, Dev (Shah Rukh Khan) and Rhea (Preity Zinta), and Rishi (Abhishek Bachchan) and Maya (Rani Mukerji). Obviously, there have always been problems in their relationships. Dev is a failed football player whose injury turns him into a bitter, angry man. Rhea has never been supportive of his dreams, instead choosing to focus on her career.
Rishi is madly in love with Maya but Maya, obviously, doesn't love him. A chance encounter between Dev and Maya turns into a friendship based on their mutual marriage problems, which, in turn, spawns illicit love. As far as the performances go, they are good, especially Abhishek and Amitabh Bachchan, who singlehandedly save the movie from becoming a complete bore.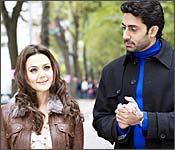 What angers me about this film is that it had so many opportunities but it wastes each and every one. Set in New York, KANK wastes every opportunity given by the city. As always in these love stories, the city is just an excuse to show pretty scenes of a foreign country. The movie doesn't ever show NYC for what it really is. Neither did Kal Ho Naa Hofor that matter, but in this movie, Karan could have used NYC as a beautiful but dark, sad and haunting backdrop for his tale of heartbreak.
Instead, he chooses to use the city to stage one unconvincing coincidence after another. How many times can people walk into each other in a city as huge as New York? How many times can you randomly meet someone you know at a surprisingly deserted Grand Central Station? It seems like the entire plot is forwarded by one coincidence that tops the last. As for Shah Rukh and Rani, why do they have an affair and why should the audience sympathise?
Shah Rukh's Dev is the most despicable, hideous, horrible, bitter, angry and pathetic human being he has ever played. I felt repulsed every time he talked to his own child in ways that suggested borderline emotional abuse to me. Why would Maya fall for this guy? He doesn't even spare her his nasty rhetoric.
As for Maya, what possible reason could she have to cheat on a husband who does nothing but love her? If she was so unhappy, why didn't she break up with him first? Granted, people can make mistakes. And yes, it is easy to take someone for granted and hurt who you love, but after watching an hour of Rhea and Rishi desperately try to make their marriages work while Dev and Maya rent a hotel room, I felt increasingly frustrated.
Was Karan trying to say that cheating is okay? Or is he trying to make a movie that centres around bad people doing bad things? But then, if they are bad, why are they portrayed as having this timeless romance, like they were the stars of a Mills and Boons novel?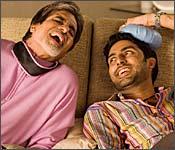 Preity, in her short role, comes across as a cold hearted, near masculine woman, who wears the pants in the family.
Amitabh keeps talking about his conquests of girls less than half his age. Yes, it's funny, but please Karan, when will you stop writing sexist scripts? By the end of the movie, I would have been perfectly pleased with an unhappy conclusion. But then, Karan extends the movie by a needless epilogue, which shows Dev and Maya getting back together, after three years of 'atonement.' What made these previously unhindered lovers suddenly feel guilty?
Here's the bottom line: If you want to take a serious, no holds barred, unflinching look at infidelity and ill matched couples, do it, and do it whole heartedly. Don't cut corners, don't compromise on character development, don't manipulate the audience, don't use shoddy scriptwriters like Shibani Bhatija, and for Pete's sake, don't mix it with moments of Kuch Kuch Hota Hai type hilarity.
In the end, KANK is a watchable movie, and I'd say that you might even be entertained. But you won't come out liking it. What does it say about a movie when the best part about it is the small role of a supporting character?
Karan, you could do so much better.
Sumier Phalake, who will turn 26 shortly, works for IBM in Atlanta, Georgia, USA.