Last week, a Bangladeshi musician claimed that Mohammad Rafi was not given his rightful due in India. In a week-long series, rediff.com finds out if the great Rafisaab was indeed ignored by the Hindi film industry and the government.
Today: Assistant Managing Editor Syed Firdaus Ashraf asks Shahid Rafi, Rafisaab's son, what he thought of the controversy.
Part I of the series: Did Mohammad Rafi get his due?
His mobile phone's ring tone is
Din Dhal Jaye Raat Na Jaye
and strains of
Dar De Dil (Karz)
-- both songs his father sang -- from his laptop fill the room.
More than 26 years have passed since Mohammad Rafi passed into the ages, but for Shahid Rafi, his father is still alive.
"A man like my father is born once in 1,000 years. He was God gifted and could sing songs from any genre," says Shahid.
Shahid's three brothers passed away years ago. His mother Bilquis Rafi died in 1998. Two of his three sisters live in Mumbai; the eldest lives in London.
Shahid runs Raffinee Fashions Private Limited (located in Goregaon, suburban Mumbai), which employs 450 people.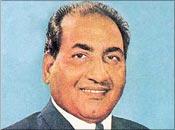 Ask him if he feels his father has not been given due recognition from the government, and he replies, "My father got a Padma Shri and a National Award in his lifetime, and that was quite an honour. He did get his due."
Does he feel that Rafisaab deserved more prestigious awards like the Bharat Ratna or the Dadasaheb Phalke award? Shahid replies after a pause, "I don't know about this. I am not sure whether the Bharat Ratna or the Dadasaheb Phalke awards are given posthumously. If they are, then my father deserves them."
But he adds that it is not the government's job to keep his father's memory alive, because it has to run the country.
"There are so many problems in our country," he says. "There are floods, bomb blasts, terrorism and drought that are more important to our country. I cannot expect the government to stop worrying about these things and instead grant awards in my father's name. After all, the Indian government never has had anything to do with the film industry."
Rafisaab never forced a movie career on his children. "He was a very liberal father and never told us what to do in life. I started working in the travel industry and then started my garment business in 1989," says Shahid. Ditto with his siblings, he adds.
The family has not done anything to keep Rafisaab's memory alive, citing lack of time from their businesses, but Shahid feels Rafisaab's memory has not been eroded from the public consciousness.
"Today, if you see any youngster in a singing competition, he sings at least one of my father's songs. His death anniversary on July 31 is always remembered and there are programmes hosted at many places in his name," Shahid points out.
Are Rafisaab's grandchildren interested in singing?
"No," says Shahid. "My son Fuzail, who is in Class 7, is interested in dancing, not singing. Just like my father never forced me to do anything in life, I too will not force my son to do anything."