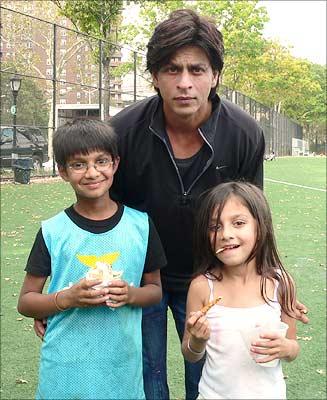 If you watched Karan Johar's Kabhi Alvida Naa Kehna, you will remember the children's soccer game, in which SRK's screen son is introduced.
Though the match lasted a couple of seconds, the makers took five days to film it, in Bryant Park, Manhattan.
Reader Kiran Jain sends a picture of Arun and Avni -- who played in the match -- posing with SRK.
Incidentally, SRK's screen son, Ahsaas Channa, is actually a girl. She was earlier seen in Ram Gopal Varma's Vaastu Shastra.
If you encounter/meet/see film or television personalities and photograph them, scan the photographs and mail the pictures to us. We will feature the best images right here on Rediff Movies.
Also check out: Bipasha | Amitabh, Rani | Yash Chopra | Ram Gopal Varma