R
ediff.com invited readers to send in their reviews of Karan Johar's Kabhi Alvida Naa Kehna, and be part of the Rediff Movie Reviewers group.
The response was very good, and selecting the top ten reviews was quite the task.
Starting today, we publish the top 10 reviews, in no particular order.
I have never been a fan of Karan Johar. Yes, of course, you see all his films, but you see them for the stars, the fashion, the gloss, the well-choreographed dance numbers, the sheen of expensive filmmaking.
It's fun to see Amitabh Bachchan do an arresting Shava Shava. Or see Shah Rukh land in a chopper at the Raichand palace, and assume it's a normal day in the life of a rich man. You don't expect to see life's truths reflected in the dialogues of these out-of-the-world people. They exist but only in a fictional sort of way, and their life and worries are a world apart from the universe we common denizens inhabit.
So, a popcorn flick is what I'd expected in Kabhi Alvida Naa Kehna. However, much to my surprise, Karan Johar actually steps into the 'grown-up' zone this time, tackling the substance under the candyfloss. KANK deals with infidelity after marriage, and takes the story (which is admittedly shaky) to a mature conclusion.
Dev Saran (Khan) is a rising soccer star in the US, married to fashion executive Rhea (Preity Zinta). Rhea works hard at her career, spending less time applauding sourpuss hubby for every goal he makes, than he would like. Then there's Dev's mom Kamaljit (Kirron Kher) a caterer of sorts, who's catering Rishi and Maya's wedding.
Rishi (Abhishek Bachchan) runs an ad company, loves Maya and partying. Maya (Rani Mukerji) isn't so sure, and talks about this with Dev, then an absolute stranger who happens to wander into the vicinity. In one of those quirky, surreal encounters (which happen only in Johar movies) Maya and Dev talk, and he encourages her to marry Rishi -- which she does. He leaves, has an accident, effectively ending his soccer-playing career.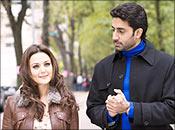 Several years later, they meet again, realise that they are kindred souls and become good friends. As their respective married lives deteriorate, this escalates to an affair. Later, plagued by guilt, they decide to end the relationship and tell their spouses. And when they do, all hell breaks loose.
From all the sobbing around me, I'd say there wasn't a single dry, female eye in the theatre. Johar has created a sob story like no other. You weep for poor Rishi, and then you weep for... well, just for Rishi then. Rishi's character is most believably sketched, and Abhishek does a tremendous job, radiating sincerity, and managing to convey hurt. I didn't see why Maya didn't dote on her husband; he seemed adorable. Still, Rani manages to make even a 'fake' character seem believable.
Rhea and Dev's characters seemed rather flaky too, the bone of contention between them being Dev's slighted ego (wife more successful) and his gone-down-the-tubes career. To me, Dev seemed rude and irritable. As far as acting goes, Shah Rukh did what he does best. He wiggled his eyebrows. Rhea is not the pativrata nari either, but her character hasn't been given much thought and it shows. Preity looks older, and is heavily made-up throughout the movie, giving credence to the 'vixenish' stereotype of the career-oriented woman.
Besides these four, there is Rishi's flamboyant dad, Samarjit. Sam wears the brightest reds, beds the youngest women, and parties like there's no tomorrow. He also commemorates his dead wife's memory by gallivanting around with semi-clad, nubile, nymphets and rocking to hip-shaking numbers. But he is also insightful and sensitive. Amitabh embraces these profound character conflicts, and plays Samarjit convincingly. Kirron Kher as Dev's mom has a small role, but plays it with aplomb.
The story, as I've implied before, is shaky. One disbelieves the motivation for estrangement, and is tempted to pooh-pooh the trivial issues the director brings up as reasons for disenchantment. Still one hangs in there, because some moments are magically shot, some dialogues are blissfully meaningful (although it does seem a bit awkward to have these beautiful, stylish people spout reams of 'serious stuff'), and much of the emotion permeates through.
The music and background score is very good; I especially like Mitwa and Tum Hi Dekho Na. Despite all the pros, and the perceived cons, I really liked this movie -- the first Johar movie that I have more than tolerated.
Amodini is based in Houston, Texas, USA, and works as a programmer. Married with two children, she is an avid movie-watcher.
On Tuesday, we featured Abhishek Asthana's review.