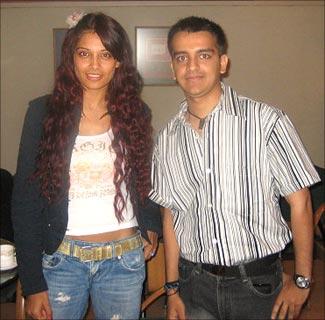 Reader Chirag Nagpal, a trainee pilot in Vancouver, was bowled over by Bipasha Basu, when he bumped into her at Mumbai airport.
The actress and designer Rocky S were travelling to Dubai, while Chirag was on his way to Los Angeles.
Bips readily agreed to be photographed, and when Chirag asked for another picture with her, she asked, 'You want to take another picture in case I looked bad?'
Well, we're blown over by her modesty too!
If you encounter/meet/see film or television personalities and photograph them, scan the photographs and mail the pictures to us. We will feature the best images right here on Rediff Movies.
Also check out: Amitabh, Rani | Yash Chopra | Ram Gopal Varma