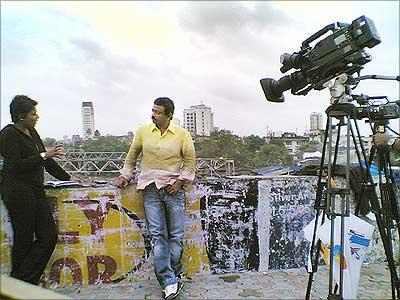 It's not unusual in Mumbai to stumble over celebrities. After all, this is the City of Dreams, Bollywood's postal address.
We have shopped for vegetables alongside Sridevi no less, waited to cross the road with Saif Ali Khan (we were on foot, the Chotte Nawabsaab was in a giant SUV), browsed for DVDs along some of the hottest talents in Bollywood. But in true Mumbaikar style (we Mumbaikars are not really impressed by celebrity, you know), we have just glanced at these movie folk and moved on.
Wednesday morning was different. When we spotted director Ram Gopal Varma on Mahim bridge, close to the Rediff.com offices, we decided to capture the moment on our mobile phone.
And thus was born a new Rediff Movies series.
So if you encounter/meet/see film or television personalities one of these days and photograph them, why don't you scan the photographs and mail the pictures to us? We will feature the best images right here on Rediff Movies.
Photograph: Dominic Xavier