The adorable rogue is back. And this time in even more colourful shirts!

Lage Raho Munnabhai, though as speculated, is not a sequel to Munnabhai MBBS, but a new spin off in the same series. Of
course, Munnabhai's (Sanjay Dutt) constant companion, Circuit (Arshad Warsi) is a part and parcel of this comic package from producer Vidhu Vinod Chopra and director Raj Kumar Hirani. The film also features Vidya Balan, Dia Mirza, Jimmy Shergill, Dilip Prabhavalkar and Boman Irani.

Tapori: Bole to bole to kaisi hogi hai
Aisi ya waisi are kaisi hogi hai
Apun ko jaisa mangta hain waisi hogi hai
Lage raho Munnabhai!

That's the title song for you! Like the lyrics suggest, I wonder what the new Munnabhai movie is going to be like. I'll be happy if it lives up to my expectations even if it does not exceed them.
 
Tapori: Tension nahi leneka!
Apun ka Hiranibhai, ekdum jhakaas filum banayela hai! (Chill dude, rest assured Hirani's made one hell of a movie!)

Indeed! While Munnabhai MBBS had Anu Malik behind the compositions, this one has Shantanu Moitra doing the honours. Quite an unlikely choice really, considering Moitra has written the score for dramas like Parineeta, Hazaaron Khwahishen Aisi and Yahaan in the past. Even though he doesn't break any new ground, he appears fairly comfortable in the light-hearted genre also.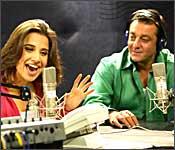 The opening track, Lage raho is fun and catchy. It's typically Munnabha-ish in tone with an dhinchak arrangement, a bustling chorus and screwball humour. There's also a racy remix of the same in Shaan's voice by Jatin Sharma.

Tapori: Arre kitna time khallas karega bhai?
Doosre gaane pe aane ka tax lega kya?
Public ko batao na kya dhamaal gaana hai! (Move it, man! Let's get on with the next track! Tell the readers just how kick ass it is!)

The Munnabhai music then goes on to a 'kiss and tell' session with a clearly awe-struck Circuit in the frothy winner song, Samjho ho hi gaya. Dutt and Warsi's chuckle-evoking tête-à-tête accompanied by Vinod Rathod's baritone singing to Moitra's wayward tune is surprisingly good and of repeat value as well.

Tapori: Ahhh, ab aaye unt pahad ke neeche!
Ek andar ka baat bolun kya?
Yeh pal pal gaana apne ko jama nahi!
Apun ko theek se yaad nahi, magar kidhar toh bhi yeh pehle sunela hai! (Now we are talking! Psst…know thing Pal Pal track? I don't dig it so much. I am not sure where exactly but I have definitely heard something like it before.)

Why it's a rip off of Cliff Richard's Theme for a Dream! Smooth, Mr Moitra! Did Munnabhai con you into this? Cheerfully crooned by Sonu Nigam and Shreya Ghosal, the romantic ditty might find favour in those who haven't heard of the original oldie but will be thumb downed by Cliff Richard fans!

Tapori: Abbe! Aane char aane ka funda suna kya?
Waste nahi karne ka, kya samjha?
Nahi to mamoo! (Yo! Did you get the philosophy behind Aane char aane? No wastage or else its Mamoo time!)

Life is precious; don't waste it is the clarion call of Aane char aane! And Indian Idol 2 runner up Karunya does a commendable solo job at putting it forth!

Tapori: Hayla! Apun ka hero,
Gandhiji pe ek akhha gaana diye la hai!
Bande mein tha dum…ekdum sahi bola! (They dedicated an entire song to my favourite Mahatma Gandhi. What a guy, wow!)

Moitra does an offshoot on the basic strain of Jagriti's Aao bachon tumhe dikhayen jhanki Hindustan ki to create Bande mein the dum-Vande Mataram, a glorious ode to the Father of the nation, who also has a pivotal part in the film, previously titled The Mahatma Versus Munnabhai. Though eloquently penned, the overall impact of the song isn't stirring enough. The album also includes a flute-based instrumental of the same song.

Tapori: Apne Munnabhai mein Tashan hai, biddu, lage raho! (Munnabhai's got style, pal. Go for it!)

Psst… provided that's your style too! Otherwise, just wait for the movie.
Rediff Rating: