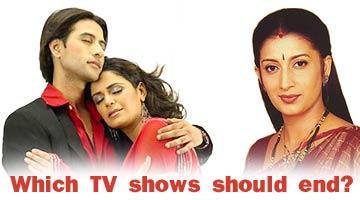 Had enough?
The long-standing problem with Indian television is that our shows don't know when to quit. Like our actors and politicians, they have to be forced into retirement by low viewership ratings. Otherwise, they drag on and on, comfortably past the 500-episode mark.
A show might start out looking refreshing, with a bright ensemble cast and good plot. But, the minute it hits the top spot, everything becomes irrelevant and stretched past all limits.
Tell us. Which current TV show have you had enough of? What serial should have its last episode now?