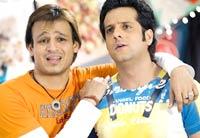 Love conquers all handicaps. Or so insists Inder Kumar's latest comedy, Pyare Mohan.

Post Masti, the filmmaker continues to concentrate on the audience's funny bone. In Pyare Mohan, he has Fardeen Khan playing a blind man and Viveik Oberoi go deaf as they comically struggle to woo Esha Deol and Amrita Rao respectively.

Anu Malik helms the soundtrack with considerable aid from arranger Ranjit Barot and lyricist Sameer. Previously when Malik and Barot got together in Aks and Asoka, the end result was entrancing.
| | |
| --- | --- |
| | More on rediff.com! |
| | |
But the soundtrack of Pyare Mohan never ever grabs the listener.

Here's what it does offer:

A little bit of qawwali. A little bit of rap. A little bit of pop. Fusion is the name of the game in Har Mohan ki koi Radha. Okay, so it's not another Kajrare (Bunty Aur Babli) or even Tumse milke from Main Hoon Na. Try playing it in a loop for a while to get foot-tapping results. Though mostly a visual number, it features a whole line-up of playback singers ranging from Udit Narayan, Shaan, and Krishna to Earl Edgar D, Anu Malik and Ranjit Barot.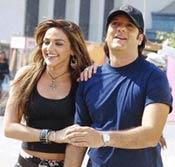 Sopping with saccharine sweetness and mushy floss, Tu jahan bhi jayegi is stuff Valentine's Day is made of. That doesn't stop the track from featuring extensively in the album. Tu jahan bhi jayegi is laden with 'I love you my angel' galore and Kunal Ganjawala sounding love-struck. The guy has sung enough courtship anthems to not sleepwalk through this one. The other versions are clearly emotional and slow-paced. The remix, however, is adequately spruced up with zingy velocity and swanky percussion.

Sunidhi Chauhan and Nikita Nigam pay a song and dance tribute to youth in Rabba de de jawaani. The sirens fight for sound space in this irritatingly wannabe ditty.

Abstract. Incoherent. Interesting. Trickbaby is back at what it does best: making oddball music. The band that featured prominently on the album credits of Bluffmaster churns out the hip and rhythmic title track here as guest composer.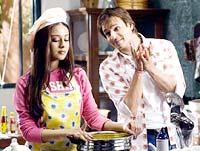 From peppy and frivolous, the mood of the album shifts to no nonsense and dry in Ek rub sach hai. Richa Sharma's gruffness and Krishna's high pitched shrieking fail to impress in this drab melody.

Street-side beats dominate the playful ditty Day by day mera pyaar, which unpretentiously caters to the masses. If the mischief in his voice is any indication, the singer appears to have had a swell time performing this track.

The bottomline: The soundtrack of Pyare Mohan has a couple of decent melodies. But, on the whole, it is not entertaining enough to hold the listener by the collar, oops, ear.
Rediff Rating: