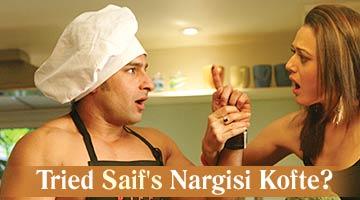 National award winner Saif Ali Khan seems all set to seek out different kinds of roles. After his period look in Vidhu Vinod Chopra's Parineeta, Saif sports a trendy look in Yash Raj Films' Salaam Namaste.
In his other forthcoming films -- Being Cyrus and Vidhu Vinod Chopra's next -- Saif plays dark characters.
Currently in Rajasthan for Chopra's film, Saif took a break to chat with Vaihayasi Pande Daniel and Ronjita Kulkarni. Excerpts:
Special: Showcasing Salaam Namaste
What made you take up Salaam Namaste?
Salaam Namaste was, shockingly and sadly, the only film that I was offered in the entire year that had the kind of energy that I wanted to associate (with) -- the look of the film, the people it's aimed at, the dialogues, the situations. And of course, the production.
It's radically different from Parineeta.
Yes, it's interesting to do different things.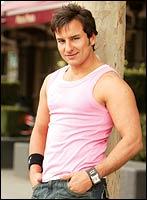 Tell us about your character Nick.
Nick is an embodiment of what I think is a cool guy. He's irreverent, lazy, takes things easy, can't get up early in the morning. He's a great chef, and not overly macho. He's a contradiction in many ways. He's laid back and yet hyper about certain things.
He's a real person. He lives abroad, has a job, a car and is well-organised. He's a model Indian guy in many ways. He blends in with the West quite well, and yet has his own identity. When he reacts in love, people will identity with him.
This is your fourth film with Preity Zinta, after Kya Kehna, Dil Chahta Hai and Kal Ho Naa Ho. How close are the two of you?
We've known each other for a long time and have done a lot of work together. There's mutual respect between us. We're less hero-heroine and more like buddies. Sometimes, we annoy each other as well.
I don't treat her as a heroine and she doesn't treat me as a hero. We're part of the same generation where we are not 'filmi.' Or maybe we are, I don't know. But it's a relationship with trust and respect for each other's way of performing.
Tell us about the shooting stint in Australia.
This was the most relaxed shoot ever. We would start shooting at 10 am and finish early, by 5 pm. After that, we would either grab a beer at a pub or go out for dinner. Sundays, I would just read or catch a movie.
How was the experience of working with first-time director Siddharth Anand?
Siddharth is extremely talented. He knows what he wants. He's grown up with films. His family has been in films for a long time (Siddharth's father Bitu Anand was a producer, and made films like the Amitabh Bachchan-starrer Shahenshah. Siddharth's grandfather Indra Raj Kumar wrote films like Safar, Sangam and Ek Duje Ke Liye).
Siddharth has a strong grasp of what the audience wants to see. He's not selfish with his storytelling. He doesn't choose a story based on what he thinks is interesting but he keeps in mind what should be interesting to others as well.
I like the way Salaam Namaste has been shot. We had a fun unit, where everyone wanted to do something special. We were working with an Australian crew so that helped to keep the film international in thought.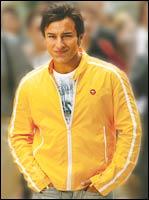 Do you cook as well as your character?
I cook sometimes. But not as well as my character. My specialty is Nargisi Kofte!
What are your hopes for Salaam Namaste?
I hope Salaam Namaste reaches as many people as we would like it to. It has got a social kind of relevance because it's about a live-in couple. Also, the way it speaks about relationships and responsibility. I'm proud to be a part of a film that's doing that, as well as being entertaining.
Do you think it's too progressive for India?
It's important to be forward and not retarded in your filmmaking just because a few people may not appreciate it. If it's a good film, it'll run. Everyone's been in love at some point, so there's no reason why various generations will not accept it.
It's a Yash Raj film, and is not a heavy topic. Even kids will enjoy it. It's not something to get judgmental about.
How do you select films?
I select films based on many things -- the production, the story, the energy in the script, whether it's different to what I've done before, whether it's different to what I've seen, whether it's exciting enough to get me to think about it…
I'd like to do various kinds of films. There are different sides to my character. I'd like to make one take dominance over the others in my films -- whether it's a serious side in Parineeta or something more normal in Salaam Namaste or something more dramatic, dark in Being Cyrus…
Tell us about your forthcoming films.
I play a dark character in Being Cyrus. It's about a really messed up guy, who seems normal. And that's the scary part of it.
Vidhu Vinod Chopra's Eklavya is a Rajasthan-based thriller, also starring Amitabh Bachchan. It's very dark and dramatic. It was called Yagna earlier.
I play a prince with a lot of problems. But it's a contemporary film. A lot of Thakurs and royal family in Rajasthan still have a lot of influence.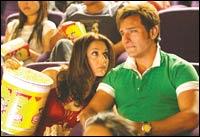 What kind of films do you like to watch?
I like supernatural films and thrillers. Not love stories. I like films like China Town and Godfather.
Which of your films has been closest to your heart till date?
Parineeta. I loved the way it was shot, the story it told, the kind of level I performed at…
Any regrets?
Yes, many. But they've all taught me something. I know what mistakes not to make again, what not to get carried away by.
Do you give career advice to your sister Soha?
Yes, when I can. I try and answer whatever she asks me. But unfortunately, you have to find your own way around (in the film industry). There's a fine line between being protective and being destructive.
How do you unwind?
Take a bath, slip into pajamas, read... Right now, I'm reading the biography of Atila the Hun.
When I'm shooting, I spend time in-between shots playing computer games.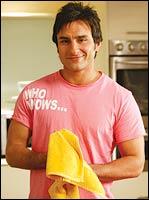 How has your interaction with your fans in the US been like?
Interaction with fans in the US has been mainly through stage shows. They seem to be like anyone else really. Some of the fans are not so well off. I met a couple of guys working in pizza shops in Staton Island. They have to be quite brave because there are all kinds of people coming there at about 2 am. I saw one guy handling a drunk guy there. So it can't be easy. I can identity with them somewhere because I've lived abroad as well.
I also meet fans when we're shooting abroad. We're constantly meeting people who come up to say hello.
Why do you think you are so popular there?
I would be tempted to say that I might have a sense of humour or a way of looking at life in common because I've lived abroad too, so in terms of attitude, dress, conversation. But I think it's got something to do with the kind of films that we do. Films are more progressive now in terms of subject matter and the way they are shot. Like Hum Tum and Salaam Namaste. I think the films appeal to the NRI (non-resident Indian) audience.
Do you think the fact that these films have international locales helps?
A lot of films are shot in international locales, so it takes more than that. It's the attitude of the movie, whether people can identity with it or call it filmi. Today's generation can make that differentiation.
What do you like to do in the US?

Eat! I like to eat! Things like steak that I'm not very comfortable eating in India. Usually, I stay at the Hotel Radisson in Lexington. There's a Greek restaurant there that's very nice.
I don't eat Indian food abroad often. But some of the best Indian food that I've had is in New York and London.
I have a couple of friends living there as well. US for me, is pretty much New York really. It's a great city.