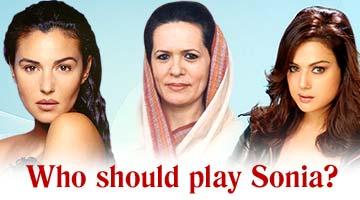 Director Jagmohan Mundhra wants to make a film on Congress president Sonia Gandhi.
The film will reportedly begin with her falling in love with Rajiv Gandhi and end after her husband is assassinated and she rises to lead his political party.
The role is a difficult one, and most people believe Mundhra has chosen the stunningly beautiful Italian actress Monica Bellucci (left in top image) for the role.
We remember the gorgeous Ms Bellucci from Giuseppe Tornatore's stunning Malena (where she was every masculine fantasy), Gaspar Noe's shocking Irreversible, Mel Gibson's The Passion Of The Christ, where she played Mary Magdalene, and the Wachowski brother's sequels to The Matrix: Matrix Reloaded and Matrix Revolutions.
Monica, who will turn 41 on September 30, is a stunning Italian woman -- she hails from Citta di Castello in Umbria, close to Turin where Sonia Maino was born -- and a terrific actress.
On the other hand, some insiders swear that Mundhra wants Preity Zinta, our very own Ms Salaam Namaste, to play Sonia.
Who do you think is better for the role -- Monica or Preity? And if not either, which actress do you think fits best in this role? Tell us!