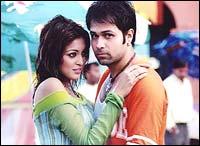 I did not expect much from Aashiq Banaya Aapne. Going for a film which starred actors I had never seen perform (except Sonu Sood in Mani Ratnam's Yuva) made me anxious. I had not yet seen an Emraan Hashmi film, and Tanushree Dutta is a debutante. Besides, the director Aditya Datt was new as well.
But the film was not all that bad. In fact, it may just work in smaller centres. After all, it has enough of the stuff that frontbenchers seem to love: skin.
The story is as old as the hills. Two boys fall in love with the same girl, and one of them tries by hook and crook to outdo the other. Believe me, you know the end even before the story starts.
Emraan Hashmi seems to have an avid fan following among the stall-goers. As soon as he made his entry, there were whistles and catcalls. People were evidently waiting for him to do what he does best -- undress his heroines. We've seen it in Murder (with Mallika Sherawat) and Zeher (with Udita Goswami).
Tanushree: Hot and Chocolate-y!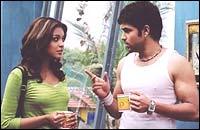 And he does not disppoint in Aashiq Banaya Aapne. He seems to have mastered the art now.
Tanushree Dutta does well for her first film. She emotes well, but needs lessons in voice modulation. Sonu Sood plays the sober guy. And all he does is look wooden throughout the film. He just cannot act. He should really stay clear of scenes that require him to get angry or sad.
The music by Himesh Reshamiya is okay. The title track is excellent. Indian Idol winner Abhijeet Sawant sings one of the numbers here, called Mar jaawan mit jaawan.
If you really want to watch Emraan Hashmi doing his thing, just wait for it to be aired on television. Give Aashiq Banaya Aapne a miss on the big screen.