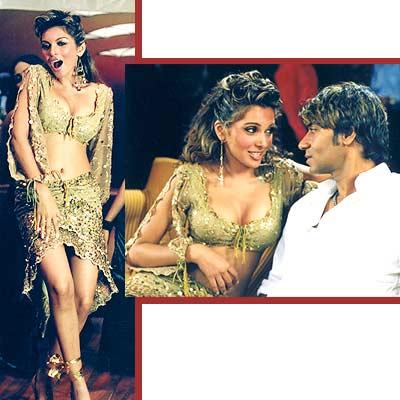 Prakash Jha's new film Apaharan has just one song, the item number Aaoji babuji kuch baatein karenge.
And the woman dancing to it is sultry newcomer Mrinalini Sharma, a Delhi girl who has modelled for brands like Westside and Motorola.
Initially, Mrinalini was not keen on doing the number, as she feared being typecast as an 'item girl'.
But, she did not want to lose the opportunity of working with Jha. Mrinalini has a bit role in the film. She plays a nightclub dancer who falls in love with Ajay Devgan.
The song is in three parts. It showcases how Devgan's character changes as the film progresses.
The song was first offered to model Cleo Isaac but she was busy getting married. That's when Mrinalini came into the picture.
Apaharan, also starring Bipasha Basu and Nana Patekar, releases on December 4.
Text: Patcy N