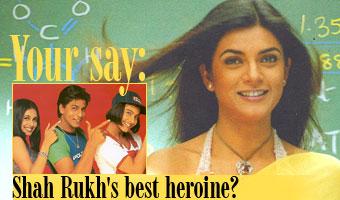 Shah Rukh Khan knows how to treat a woman.
Be it as a goofy young man, a bespectacled violin-toting teacher, a dying man, a leather-clad hoodlum, a college kid or even an obsessed stalker, Khan always seems truly in love with his leading ladies. And judging from the gasps in the audience, he sweeps them off their feet as well.
So while SRK romances the screen's most beautiful and talented actresses, here's a question for you to consider:
Who do you think is Shah Rukh's best on-screen companion?
Is it the inimitable Kajol, with whom he made DDLJ history? Is it Rani Mukerji, with whom he's churning out fabulous performance after fabulous performance? Is it Juhi Chawla, whose screen name in Darr became the world's most mimicked stammer? Or is it someone else?
Tell us what you think!