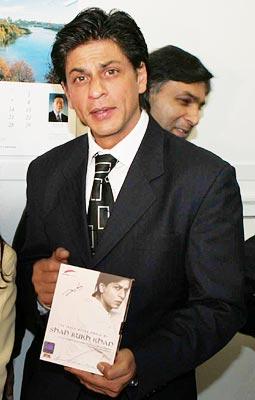 Within days of the launch of Nasreen Munni Kabir's documentary, The Inner/Outer World Of Shah Rukh Khan, we at rediff have been swamped by requests from around the world, eagerly enquiring about release dates for the DVD in their countries.
Well, so far, only the UK had access to the DVD, as it was released there on October 4. Now, SRK has launched a Special Collector's Edition version in the US on October 13.
Currently in New York filming for Karan Johar's next, Kabhi Alvida Naa Kehna, Shah Rukh joined EROS International CEO Ken Naz (seen behind SRK) to make the announcement from Jackson Heights.
As for the rest of the world, all we can do is wait, and hope we'll get to see the DVD before SRK turns 40 on November 2.