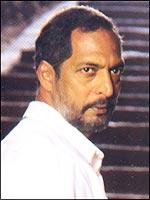 Born January 1, 1951, Nana Patekar was compelled to act in films by the late Smita Patil. "I was happy doing theatre, but she insisted," says the actor whose last film Ab Tak Chappan made quite an impact. But that was two years ago. 
"'I always do one film at a time. Even now, although I have Prakash Jha's Apaharan, Rohan Sippy's Bluff Master and Milan Luthria's Taxi 9211 coming up for release, I shot only one at a time," he clarifies. Here's more of what Nana had to say, in conversation with Seema Pant:
Lets start with Apaharan. It is about kidnapping becoming a business in Bihar?
The film may be based in Bihar, but kidnapping is not limited to the state, it is happening everywhere. And it is not only about the kidnapping of people, it is about the kidnapping of our culture, values and ethics.
Is that why you accepted the role?
I refused to do the film when Jha first narrated the script to me. I think it was the eighth or ninth draft that finally made me accept it. Of course, apart from the remuneration! (smiles)
What made you change your mind?
With revisions, it turned out to be a very well defined character, which was not the case initially. It is very important, and I must add, rare, to get a chance to really emote in your performance. That is what I look for before taking up a project. Another thing that attracted me was the fact that the character had different shades. It gives one a chance to really perform.
It is a negative role then?
There really is no black or white. The character changes during the course of the film.
And how was it shooting with Jha as a director?
I worked with Jha for about 14 months before we actually began shooting. That was the period when we were working on the script and my role. This really helped us increase our comfort level. We got to know each other well and it became very easy for both of us to deal with each other. Another thing that was very interesting and satisfying about the shoot was that the junior artists were not props. Usually there is this set of regular people who do those roles. In this case we shot in Satara, Wai and the junior artists were local people.
But isn't it tough, training them?
Jha has a set of people there, so it wasn't very tough to shoot since they knew their jobs.
What was shooting the entire film on location like?
It is very easy to emote when shooting on location. There were no sets, and we shot at one go. You know, I live the character I play during the making of a film. I am constantly thinking about it. It even influences my mannerisms during that period. For 14 months, I was thinking of my character in Apaharan. As I mentioned, I was involved right from the scripting stage. So, it becomes easier when the film is shot on a start-to-finish schedule. If not, it becomes difficult to sustain the character. That is why I always do one film at a time. I don't know how Bipasha managed it. She would shoot for the whole day, then travel back to Mumbai for another shoot at night. That is something I don't like to do.
Speaking of Bipasha, how was it working with her? She has always been associated with glamorous roles...
Bipasha is a very sincere and professional actor. I didn't shoot with her, but I have seen the film and she is good. As for her doing a Prakash Jha film, every actor should try and enhance his experience. That is how he or she will know exactly what he is best at and enjoys, right? And, of course, he will also know what exactly he wants to do.
And Ajay Devgan?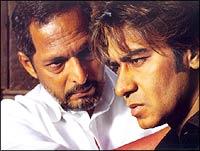 Ajay Devgan was a revelation. He is an amazing actor. He completely surrenders himself to the project in hand. What is also very commendable about him is that he is not an insecure actor. He neither worries that the other person is better, nor does he thinks he is the best thing to happen to Hindi cinema. He is willing to learn all the time. Zameen ka banda hai woh (He is a well-grounded man). And he trusts the director completely.
I believe he is quite a prankster?
Oh, he is full of pranks. He is so naughty, always playing pranks on the sets.
Did he ever play a prank on you?
No, never. I have no idea why.
Perhaps because you are known to have a bad temper?
I really don't know if my reputation preceded me. I wouldn't say I have a bad temper. Do I? Not really! (smiles)
Tell us about your forthcoming films.
I am looking forward to Gautam Ghosh's Yatra, with Rekha and Deepti Naval. And then, of course, there is Bluff Master with Abhishek and Taxi 9211 with John (Abraham).
How was it working with them?
They are both very well behaved and grounded and I admire that. The energy and commitment of these young guys is amazing. I feel that young actors today are more professional and devoted.
Is there any particular role or director you would like to work with?
I would have loved to work with Satyajit Ray. Now I would love to work with Rajkumar Hirani. Films that play on two levels interest me. For instance, Munnabhai was a comedy, but it really is a serious film with a serious message.
Any plans on directing another film?
Yes, I will be directing Jha's film sometime in February, but it is too early to talk about it just now. I haven't decided on the cast yet, so you will have to wait for details.