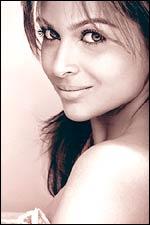 Critically acclaimed director Prakash Jha's next film, Apaharan, is coming up in December. In the film that stars Ajay Devgan, Nana Patekar and Bipasha Basu, 26-year-old model Mrinalini Sharma makes her debut, with an item number.
In a quick chat, Mrinalini talks to Patcy N about her first movie experience, and about working with Ajay Devgan. Excerpts:
During my schooldays, I had told my mother I want to be a model. People used to call me for modelling assignments also. So, looking at my interest, my mum promised me that when I turn 18, she will get my portfolio done. It started as a hobby, but when I finished college, I thought of exploring it further.
Therefore, I moved to Mumbai and started out modelling all over again. I did ads like Motorola, Westside and many more. About a year after being in Mumbai, I thought of acting in movies, but I took my own sweet time. There were people who approached me, but I said no because of some personal circumstances, and also because I wanted the transition to be natural.
| | |
| --- | --- |
| | More on rediff.com ! |
| | |
I have a small family: mom, dad, my brother and two dogs -- one in Delhi and one in Mumbai. My dad is in the police, and my mom is a businesswoman --- she has her finger dipped in many jars to keep herself busy. My brother is studying. 
I live alone in Juhu, Mumbai.
My parents have been very supportive. From the beginning, they knew I wanted to get into films, and there is so much trust involved that I don't want to let them down. And, honestly, for a beginner, there is nobody better than Prakash Jha. He is such a big director.
He had a song in mind, and for that he called Remo, the choreographer. Remo had my photographs, sent to him by some of my friends. Remo felt I suited the bill, and he forwarded those photographs to Prakash Jha, who instantly liked me.
I got a call from his office. He took me in, but the only hitch was Remo wanted to see whether I could dance. Once that was sorted out, there was no audition. But before I came in the picture, [model] Cleo Isaacs was supposed to do this, but she got busy with her marriage and I was the second choice.  
Meet Prakash Jha's new item girl
I was apprehensive at first when Prakash Jha approached me, because I did not want to go with the item-girl image. Before I even came and heard the song I was in two minds. But then I thought, 'This is Prakash Jha; he will have something in mind.'
 So I came to meet him and heard the song, the situation, and was told about the character. The song in itself is definitely not a club number; it's a melodic, sensuous kind of song, and I realised it is not a typical item song.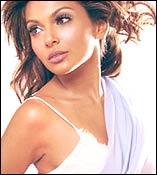 There is a song in this movie, but there is also a complete scene and I have a proper, fully-developed character. This person is a nightclub dancer. Her name is Sonia and she is an independent, modern girl, and along the course of the song she falls in love with Ajay Devgan.
It's completely in the flow of the narrative. It's not like first lead or second lead, but this character has an impact on Ajay's life. The song is Western in its approach, but the lyrics are very desi: Aaoji babu beth jara kuch batein karenge (Come sire, sit down and we'll talk) but it is styled and choreographed in a Western pattern. It is definitely not anywhere near desi.
The song appears in three montages. it is a development of Ajay's character as he heads in a certain direction. The song highlights change in his character, and his transformation as a human being. The song is part of the story. There are two costume changes: one is a golden outfit, which is very glamorous, and then there is a maroon gown.
There is no romantic scene between me and Ajay Devgan, because it's a one sided affair. I am in love with him, but his interest in me is purely at a physical level, me being a glamorous woman he sees in a nightclub. I had no scene with Bipasha Basu. The only people I worked with are Ajay Devgan and Ayub Khan.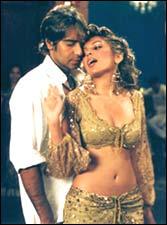 I was very nervous acting opposite Devgan. He is such a big and established actor. I may be modelling for a long time now, but it's a whole different ball game when you are acting in a movie and that too with such a big star. It was very unnerving but my director and Ajay both set me at ease, and they have been wonderful.
Ajay was very encouraging. At no point of time did he step in and say do this or that, or you are doing this wrong. However, if he felt that I needed a little bit of advice, he was always there to offer it.
Ajay and Ayub Khan played a prank on me. I was given a scene to work on before shooting. So when I was prepared, Ayub told me that the scene has been changed, and Ajay agreed to that and told me about one whole big scene, and Prakashji also played along. So they kept pulling my leg for almost a day.
I am looking forward to more movies. I will do item numbers also; I don't have a closed mind to that. If Prakashji asks me to do a song for him, I would agree to it immediately.
Some directors have approached me and we are on the verge of finalising films. They are full-fledged roles where I will play the lead, but I won't speak now, as I'm very superstitious.