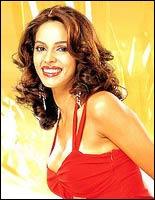 Bold met bold as Mallika Sherawat performed My Short Skirt, a daring skit among the many bold skits of The Vagina Monologues.
That is the latest twist in the script for the provocative play authored by American playwright Eve Ensler.
The play is based on Ensler's interviews with more than 200 women about their experiences on sexuality, identity and violence. It has been adapted in India by actress-director Mahabanoo Kotwal of Poor Box Productions.

Names, places and situations have been modified to suit the Indian context but the script is the same as in the original play.
The play's 100th performance was marked by Mallika's stage debut, in Mumbai's Prithvi theatre on Sunday, May 29.
| | |
| --- | --- |
| | More on rediff.com! |
| | |
"
This is a young woman who is very bold. She speaks her mind and is not a hypocrite," says Kotwal about why she roped in Mallika. 
Kotwal met the actress on the sets of a sitcom. "I asked her if she would act in the play and she was more than happy to play the part." 
Hollywood actress and Oscar-winner Marisa Tomei brought the same skit to life in Mumbai last year to mark International Women's Day.
"Mallika's delivery is different from Marisa's as each actress has a strong sense of individuality and this comes through in their rendition of the role," says Kotwal.
Other stars that have given guest performances in this play worldwide include Brooke Shields, Judi Dench, Julia Roberts, Oprah Winfrey and Whoopi Goldberg.
According to Kotwal, the casting decision and emphasis on the particular skit My Short Skirt was in response to recent allegations made by various parties that women provoke rapes by dressing provocatively.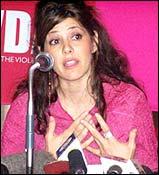 Sherawat's monologue lasted a couple of minutes and comprised lines to the effect of 'My short skirt is not an excuse to rape me' and so on.
Rediff Radio jockey Malishka Mendonsa can't stop raving about Mallika.
"I have seen the play twice, but this time I went only for her (Mallika). She truly stands out because amid the bevy of Bollywood wannabes who bare skin, here is a girl who is beautiful, bold and intelligent. Her personality shines through. And her attitude complements it," says Malishka.
The Murder bombshell donned a demure black shirt and, needless to say, a short red skirt.
At the end of the monologue, the lights went out. The men threw roses, women hooted and the applause was deafening. In the darkness, one could see Mallika's silhouette as she bowed and blew flying kisses to the audience.
The theatre was packed and included celebrities like Gauri Karnik (of
Sur
fame), Nausheen Ali Sardar (who played Kkusum in the popular television serial), Alyque Padamsee and Tejaswini Kolhapure.