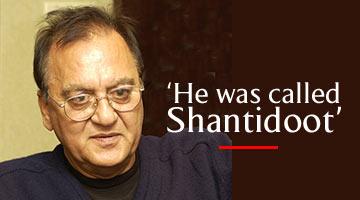 Snehal met him during the course of her work.
Archana met him at a charitable function.
V V R Murty bumped into him in a hotel lift, while Ramanjit shared a coach with him in the Amritsar Shatabdi train.
Here is what they have to say about the man whom we all knew as Sunil Dutt.
Snehal Kulshreshtha: I was in the Krishna Oberoi, Hyderabad (now the Taj Krishna), in 1990, working as senior lobby manager. Mr Dutt was a guest at our hotel. We first met when he checked into the hotel in the evening. Around midnight, when he was going to his room, he acknowledged my 'Goodnight sir' greeting.
The next morning, it so happened that I was on the morning shift and he was checking out. He saw me and shook his head. He asked if I was the same person who wished him 'Goodnight' the previous night. When I replied in the affirmative, he said, 'Beta, aap aaram kab karte ho? It does not look that you are tired after working such long hours.' And he patted my back.
His words and gesture were enough to give me new vigour.
In my career spanning 19 years in the hospitality industry, I have come across many actors and actresses from our film industry. But I can hardly remember anyone who was as humane and considerate and, above all, interested in my work.
Archana Pania: A man with a woman's warmth best describes Mr Dutt. At a charitable seminar conducted by the Lion's Club, I had the opportunity to meet Mr Dutt, who was the chief guest.

As someone who grew up watching his films -- his Padosan is one of my favourites -- seeing him was a very emotional moment.

He spoke with equanimity, yet his words had the weight of 100 tonnes! His ability to be nice without making an effort was so Sunil Dutt. I could not fathom so much niceness and the lack of starry airs in someone as celebrated as he was!

But when he spoke to the audience, I realised he was first a human being and a keen observer -- well aware of what was needed for the people. It was admirable that a man of his age looked so good, sounded so composed and, most of all, channelised his energies with the ease of a teenager!
The best part for me was when he acknowledged my presence and was proud of the fact that, despite being a young radio jock, I had a social cause up my alley.
Priti Dona Barretto Prabhune: MLA Ziauddin (Baba) Siddique introduced me to Shri Sunil Dutt at National College (a suburban Mumbai college) at a Congress seminar. Shri Dutt came across as a very humble, unassuming, gentle, compassionate human being. He was so simple, so calm, a silent listener. He was truly a people's person. He had a very soothing effect on the masses whenever he addressed a gathering. He kept his promises.
I had also attended the inauguration of the Nargis Dutt Mobile Hospital on wheels in Bandra East (suburban Mumbai) -- which was chiefly for the benefit of those who could not afford treatment. It was a very hi-tech van.
We will miss this wonderful person. He was fondly called Shantidoot.
V V R Murty: I met him in a lift in a Delhi hotel years ago. I was surprised to see him and automatically extended my hand to greet him. He shook my hand with a warm smile. I did not recognise his friend standing next to him; Sunil Dutt introduced him as (Congress politician) Murli Deora.
In an encounter that lasted less than a minute, Sunil Dutt made friendly enquiries about me and spoke humbly about the good work being done by Mr Deora. It was a coincidence that, the same night, Mother India was shown on cable television in my room. I watched the film late into the night.

Though many years have passed since then, I vividly remember the brief encounter. I feel very sad that he is no more.

Ramanjit Singh: I had the rare opportunity to meet Duttsaab in March 2003. He was travelling by the Amritsar Shatabdi to Amritsar, where he was to be awarded a doctorate by the Guru Nanak Dev University. I first could not believe he was sitting there. After settling down in the coach, I sat next to him.
He was so friendly that we immediately got talking. He told me about the movie
Munnabhai MBBS
he was working in. When a fellow passenger asked him his age, Dutt
saab
replied he was 30 plus. Reflecting on that meeting, I feel very fortunate that I had the opportunity to meet him.
Readers share their memories of Sunil Dutt:
'We were mesmerised by this great personality'

More readers accounts of their encounters with Mr Dutt on Monday.