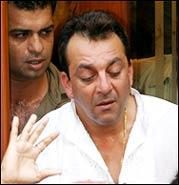 When Sunil Dutt died on May 25, one of the first people to rush to Sanjay Dutt's side was former movie director Mahesh Bhatt.
Bhatt spoke to Patcy N about Sunil Dutt, and the events of the day.
It was just another day in my office. My daughter Pooja called me from Goa, where she's shooting for a film called Holiday, that Gulshan Grover told her that Duttsaab has passed away. It (the news) took my breath away.
The first reaction was denial. Then I spent the next two minutes punching numbers to people who are close to Duttsaab, Sanju's cell was off. I got in touch with his secretary Kalim. The moment Kalim heard my voice, he told me that there was sad news and my heart sank.
I drove as fast as I could to the building where his body was first kept. I was with Sanju when I came downstairs. The media interpreted that we got the news together. I brought him from his house to the place where Dutt's body was kept.
Sanju seemed completely in control. I hugged him and he held me very intensely -- like he always does. But this time he held me a little longer. I held him like a big brother would.
| | |
| --- | --- |
| | More on rediff.com! |
| | |
I told him, 'You need to get hold of yourself and behave the way your father would have behaved had his father passed away.' I think Sanjay conducted himself exceptionally well.

Despite his easy non serious persona, Sanju is a very intense man. He was deeply attached to his father. Only people close to him can understand what it (Sunil Dutt's demise) means for him.

My brother Robin, who is very close to Sanjay, told me that Duttsaab called Sanju on Tuesday and spoke to him for four hours. It was as if Duttsaab knew his time had come.

They spoke about issues that they always did. Duttsaab was always concerned about Sanju's well being -- about his personal and professional relationships. And, of course, he was anxious because of Sanju's oncoming trial.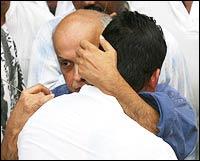 His only unfulfilled desire was to see his son vindicated in front of the world.
It is absurd that the son of political figures like Sunil Dutt and Nargis Dutt is accused of a engineering organised terror against the State. This had devastated the family.
That man wanted to see his son free. And we owe it to that man that you just exonerate and not use him as a pawn in the dirty politics and power games.
The funeral was a private moment. It was heartbreaking for the family, which was unable to cope with the tragedy and they leaned on intimate friends.
Slowly, the whole thing became a social event where everybody -- not only the people who are close to him but also people who had heard about it -- started pouring in. No one in their wildest dreams imagined that Duttsaab had such immense popularity among the people.
The State machinery and the media came in. It was not the passing away of an ordinary man.
Calls started coming in. People from the political fraternity were asking to delay the funeral by a few hours or until the next morning so that they could make arrangements to travel to pay their last respects to him.
The family was firm and said they would cremate Duttsaab before sunset. They said no matter how big a person is, we will not wait for that person.
Joint Commissioner of Police Javed Ahmed brought law and order under control in front of Duttsaab's house just two hours before Prime Minister Manmohan Singh arrived.
Congress President Sonia Gandhi, followed by other members of the party -- the big and small members, seniors, juniors the hopefuls, the have beens, the current stars and technicians.
An hour before the funeral, we learned that Duttsaab would have a State funeral. His body was draped in the tri-colour and the military carried his body. We had a tough time to ensure that emotional people did not jump on the truck carrying his body.
The chants resonated in the air, 'Jab Tak Suraj Chand Rahega Sunil Dutt Tera Naam Rahega.' Not only the Congress party but also the common people, women, the old and the young, all communities like the Sikhs, Muslims and Hindus.
I think neither the Congress party nor me nor the media imagined he had made such an impact in the hearts of people.
It was a triumph for the secularism that he carried on his sleeves. He became the human shield every time a communal sword was raised in India. He fought the bigots of this country tooth and nail.
He was perhaps the only man I knew who lived the life what Gandhi and Nehru spoke about as a concrete reality. Others only spoke about it during elections or on television. This man fought for social justice every day.
Duttsaab had called over Dulariji, an old-time actress, at 10:30 am on Wednesday, the day he died. Despite his illness, he had called her to sign her papers for an apartment through the chief minister's quota. She had said, 'Sunil kya karna hai (Sunil, what should I do). He had replied, 'Nahi aap abhi boodhi ho gayi hain, aap ko ek flat ki zaroorat hain (Now you are old and need a flat).'
Dulariji said, " I have come to sign these papers. I can't believe that I have to see him dead." She did not have tears in her eyes. She had nothing but admiration.
Men like Sunil Dutt should not be mourned, only envied for their greatness.
Photographs: Jewella C Miranda