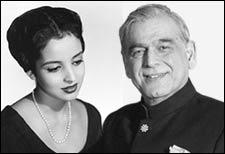 Leela Naidu worked with Ismail Merchant in the first Merchant Ivory production, The Householder (1963), with Shashi Kapoor.
I met Ismail when he wanted to cast me in a film he was making. He had seen Anuradha and had contacted me.
I wanted him to discuss the film with me. He had just formed the Ismail Merchant/James Ivory partnership company and the film they wanted to make was based in a village with camels and mosquitoes.
I remember Ivory, who had a rather sardonic sense of humour, saying it has to do with camels and mosquitoes. And I said, 'I guess it has to be made in a real village.'
They said yes.
It was like a docu drama. The financiers/distributors weren't interested in the concept. Ismail, who had already spoken to Shashi Kapoor, was very upset.
I asked him if he had another script. Ismail asked me to think and tell him if they could make another film.
I had just read this novel The Householder by Ruth Prawar Jhabvala and mentioned it to him. He asked me where he could get it from, and the next thing I knew, he was in Delhi meeting with Ruth for the rights. She was married to the famous architect (Cyrus) Jhabvala, and living in old Delhi.
This actually started the Merchant-Ivory-Jhabvala association. The Householder was their first film together.
Ismail had a very fond way of introducing me as the heroine of his 'seminal film' as he liked to call it. The film was shot in Daryaganj in Delhi in a real barsati not in a studio or sets.
He was an adorable producer. He hired Subrata Mitra, Satyajit Ray's director of photography. How he got him, I don't know.
It was very hot on the barsati and I'd be hopping about to avoid burning my feet.
We -- Shashi, Jennifer Kendal and their second baby Karan, my mother and me -- were put up in a hotel there.
I remember Subratada complaining to me that the food they were getting was just parathas from the galli(lane) and they refused to eat it. He asked me to convey this to Ismail. I did. The next day, Ismail got them food from a restaurant. That was Ismail.
Each time he came to India, he'd meet me and introduce me as his first leading lady. After that, he made me do a guest appearance in The Guru, starring Aparna Sen and Utpal Dutt. The joke was that Subrata Mitra would come to me and say, 'I am not the director. Why does James ask me about the camera angles?'
As a person, Ismail had this kind of family feeling about everyone he was associated with. He often had parties at friends' places and sometimes, people got fed up.
But Ismail was a wonderful cook, just like his mother. He was very good at making curries. He was a caring person, and a good son. He had three sisters.

I enjoyed The Houserholder because it was shot in a real location. The story was good. Ruth was nervous because she felt that she didn't have a sense of real dialogue and she'd call me every night and ask 'did it work?'
I'd say yes.
We were shooting two versions -- in English and Hindi -- at the same time, since we weren't dubbing.
Columbia had bought rights to The Householder. I remember the landlord of the house, where we were shooting, saying, 'they've taken our thalis. These people were vegetarians and Ismail was putting pieces of meat on their thalis!'
But later, they said, 'Oh, we'll buy new thalis.'
I bought my faded saris to shoot for this film.
One day, the make-up man was holding the mirror up to my face and Karan saw me like this and ran to the breakfast room and shouted Leelabai is having a shave and everyone roared with laughter. After that, Ismail always referred to me as Leelabai.