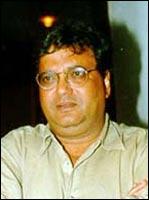 Sunil Dutt's life and work had a massive impact on much of the Indian film industry.
Director Subhash Ghai, currently in San Francisco, is devastated by the loss. He pays his tribute to Duttsaab:
Sunil Dutt will be much more remembered now than in his lifetime because he was the man who gave something to everybody and never took anything from anybody.
He was a true son of India, and a genuine brother to the film industry. And my great friend.
He has left us with so many messages -- for us to review ourselves and shape a better India tomorrow.
This is a big big loss to all of us.
My heart goes out for this amazing legend.
As told to Raja Sen